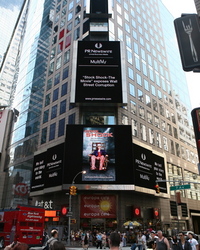 "Stock Shock is shocking and eye-opening!"-- Jane Velez-Mitchell, Issues on CNN Headline News.
Sherman Oaks, CA (PRWEB) March 12, 2010
It seems everyone is talking about it: the recession, the near fatal economic crash, and the greedy market makers of Wall Street. It is the stuff of compelling films, and both director Sandra Mohr ('Stock Shock') and Michael Moore ('Capitalism, A Love Story') have come out with movies exposing government and corporate corruption. Even director Oliver Stone has "Wall Street 2" in the works.
'Stock Shock,' a movie about Sirius XM Radio and the manipulation of the American stock market, was produced in only 3 months by the independent production company: Mohr Productions. "We wanted to get the story out about corruption on Wall Street as soon as possible," says director Sandra Mohr. "Investors were losing their shirts and we believed the movie would help to educate and protect them."
'Stock Shock' is made in the tradition of Michael Moore's 'Capitalism: A Love Story' and focuses on the all-American investors of the popular satellite radio company. The movie exposes a technique known as naked short selling, which has resulted in the collapse of the stock value of some of America's most promising public companies. Sirius XM, often labeled as one of the most manipulated stocks in the market, is dissected in the movie. 'Stock Shock' interviews individual investors who saw their stock price hit a high of $9.00/share and then plummet to a horrifying low of 5 cents in 2009. Soon after the movie spotlighted the ravaged shares of Sirius XM, the company stock rose nearly 2000 percent, and the Securities Exchange Commission appears to have finally taken an interest in naked short selling.
"Manipulative short selling was the primary reason shares of Sirius XM and so many other stocks tanked last March," says Mohr. The film will be featured at the "Los Angeles Women's International Film Festival" on March 28, 2010 at the Laemmles Sunset 5 Theaters in Hollywood, California.
Jim Puplava, host of The Financial Sense Newshour praises the movie, "Stock Shock deserves an Academy Award."
'Stock Shock' and 'Capitalism: A Love Story' are available everywhere on DVD and at Amazon.com. "Stock Shock" Movie Trailer.
###