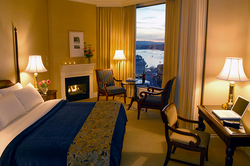 Victoria, British Columbia (PRWEB) March 13, 2010
Leave responsibilities and the daily grind behind with a Girlfriend Getaway at the Magnolia Hotel & Spa, Victoria's four-diamond, European-style luxury boutique hotel (link to: http://www.magnoliahotel.com ). This escape is the ideal way to set aside time and renew closeness with friends while relaxing. Shopping, fine dining, cultural events, waterfront walkways, year-round gardens, museums and galleries are all within walking distance of the hotel.
Girlfriend getaways are perfect for a pyjama party with wine and cheese, spa pampering, a little retail therapy and a chic flick. It's the perfect way to bond with the important women in your life...mother-daughter quality time, reconnecting with sisters and cousins, or catching up with best friends.
Magnolia Hotel channels old world elegance – the perfect setting for a little indulgence. Guestrooms feature downtown and harbour views, two queen-size custom-designed two-poster beds, floor to-ceiling windows that open, and fireplaces in diamond level rooms. In-room complimentary amenities include gourmet coffee, fresh fruit and bottled water. The opulent bathrooms feature marble cladding, glass walk-in showers and delightfully deep soaker tubs for the ultimate in bathing and relaxation. Attention to detail and service are in evidence everywhere, with complimentary continental breakfast served daily, and fresh flowers, fruit, and hot beverages in the lobby.
Prime Steakhouse & Lounge (link to http://www.primesteak.ca/) , adjacent to the Magnolia's lobby, is a cozy place to catch up on girl talk. This steak lover's paradise offers six cuts of steak. On-site dry aging and the over fired broiler produce flavor and juice with a crisp crust. Other features on the menu include a selection of salads, light entrées, fresh seafood, poultry, pasta, lamb – and Prime Rib on Friday and Saturday. Their extensive wine list has the ideal vintage to compliment each course.
Spa Magnolia (link to: http://www.spamagnolia.com/) has seven zen-like treatment rooms and a spacious lounge. Side-by-side treatments are available, ensuring no pause in important conversation. This oasis of tranquility embodies the world-famous Aveda holistic approach. Every treatment is customized to the individual's specific needs using the power of touch and fragrances.
The girlfriend getaway package (link: http://reservations.ihotelier.com/crs/p_prod.cfm?HotelID=12137&ProdID=265892&killcookie=1&LanguageID=1) for two includes a bottle of wine with cheese plate, luxurious hotel accommodation, a $75 certificate per person to use in Spa Magnolia or Prime Steakhouse, deluxe continental breakfast for two and valet parking for one car.
Prices start at $299. Bring along another friend for only $90. Adjoining rooms are also available. The third person charge includes a $75 certificate for Spa Magnolia or Prime Steakhouse, deluxe continental breakfast and additional person room charge with existing bedding.
Victoria BC's Magnolia Hotel & Spa (link to: http://www.magnoliahotel.com ) with only 64 rooms, offers an unsurpassed commitment to attentive service. Professional, courteous staff with an insider's knowledge has become the unquestioned hallmark. The hotel is centrally located just steps away from Victoria's picturesque Inner Harbour and the city's best galleries and entertainment. Repeatedly recognized by Condé Nast Traveler readers as one of the top hotels in Canada (link to : http://www.magnoliahotel.com/press_releases/2009-11-16_CondeNast.html ), the Magnolia caters to best friends, business and leisure travelers, plus their pets.
For information or reservations, contact a travel agent, go to http://www.magnoliahotel.com, or call 1-877-MAGNOLIA from anywhere in the continental USA or Canada.
###