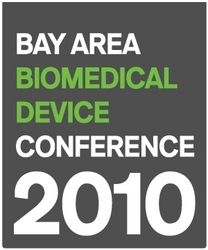 San Jose, CA (PRWEB) March 15, 2010
The First Annual Bay Area Biomedical Device Conference will be held in San Jose State University in California. Hosted by the Biomedical Engineering Society @ San Jose State University, this event will take place on Tuesday, March 30, 2010 from 8am - 5pm.
This conference will feature a set of outstanding speakers who will address several areas that are critical to the biomedical device industry. The purposes of this event includes:

Provide a forum for exposure to emerging technologies.
Hear from entrepreneurs on how to take your ideas to market.
Provide a venue for Bay Area Medical Device professionals to network.
"The Bay Area contains a large concentration of companies that conceive, design and manufacture a wide variety of biomedical devices. A conservative estimate puts the number of companies at 400, and the real number is probably higher," explains Dr. Guna Selvaduray, Associate Dean of Research, College of Engineering at San Jose State University. "However, there is no forum where the professionals in these companies can interact and network with each other. This conference series that SJSU has initiated is intended to provide such a venue, and also improve the collaborations between the corporate and academic worlds."
Medical professionals, engineers, managers, executives, marketing professionals and students interested in broadening their knowledge of the current medical device market from biomaterials and manufacturing to regulatory and marketing should attend this innovative event.
The lineup up distinguished speakers include:

Julian Nikolchev, Founder & CEO, Pivot, Inc.
Rob Abrams, Operating Partner, Sanderling Ventures
Tom Bauer, M.D., Ph.D., The Cleveland Clinic Foundation
Larry Eiselstein, Ph.D., P.E., Exponent, Inc.
Raj Makkar, M.D., Ph.D., Cedars' Sinai Medical Center
Jeffrey Lotz, M.D., Ph.D., Professor, University of California, San Francisco
Felix Vega, V.M.D., Chief of Experimental Surgery and Medicine, ISIS Services
Tom Afzal, President & CEO, Spinal Kinetics
This unique opportunity will give professionals interested in the growing biomedical device field to learn about a range of relevant topics, including:

interventional cardiology
device explants
corrosion of implants
intervertebral disc degeneration and regeneration
appropriate selection of animal models for clinical trials
regulatory affairs
entrepreneurship pertaining to medical devices.
This is an excellent networking event with professionals from many different companies, including representatives for our sponsors. This event is sponsored by Pulse Systems, Intuitive Surgical, EMBS-IEEE, and Philips Healthcare and co-sponsored by the Chinese Institute of Engineers, Golden Gate Polymer Forum, and Bio2Device.
Please visit our website for additional information: http://www.engr.sjsu.edu/bmes/2010Conference.html
About BMES@SJSU
The Biomedical Engineering Society at San Jose State University is dedicated to promoting the profession of biomedical engineering through the study, research, and discussion of current issues and technological advances. The student chapter promotes professional and academic excellence to its members by supplementing academic knowledge acquired in the classroom with professional, community, and social activities.
# # #