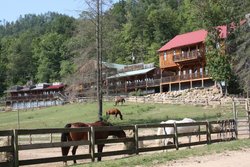 Del Rio, TN (PRWEB) March 16, 2010
There is a new Cowboy Gathering, and it's in the East, East Tennessee to be precise, where all of the Old West will come alive April 1st through April 4th, 2010. While most of the Cowboy Gatherings are out West, a lot of Cowboys reside east of the Mississippi so now there is a Gathering just like the ones out West.
While many people are interested in today's modern things, the folks that love the days of the Cowboy, with cattle drives and wagon trains, from John Wayne to Clint Eastwood, Gene Autry, Roy Rogers and Hopalong Cassidy have come to enjoy these Gatherings as a way to celebrate that era. Back in the 19th century, Cowboys were pretty rough on themselves as well as the environment, but now there's a chance to make up for lost time.
The 1st Annual Wild West Days in Del Rio, Tennessee, is not only a Cowboy Gathering but a Charity event as well. Pledging 25% of the proceeds to Save the Hemlocks, we hope to make a dent in the destructive powers of a tiny invader. It might be like spitting in the wind trying to kill a near microscopic predator of that tree, but once Cowboys determine to do something they usually make it happen, one way or the other.
Attendees of Wild West Days will enjoy a chuck wagon cook off, a historical Western tent town, a Native American village, medicine man shows, gun experts from quick draws to spinners, Single Action Shooters (SASS), and Cowboy Mounted Shooters (CMSA) and reenactments of the Gunfight at the O.K. Corral, and the final moments of Wild Bill Hickok. There will be vendors selling Western clothing, saddles, jewerly, and food so the whole family can stay the entire day and enjoy a great outing. Families can enjoy pioneer games, horseback rides and Easter hunts. We also have workshops available: beginning Photography April 1st, Quilting April 2nd and 3rd, and a Musical workshop on Sunday the 4th.
In addition, Michael Martin Murphey, Belinda Gail, Waddie Mitchell and Asleep at the Wheel, will be adding their own music and poetry for entertainment during the event. Come spend the entire day for a great family outing.
The host site, the French Broad Outpost Ranch is beautifully located in Del Rio along side the French Broad River in the foothills of the Smoky Mountains of Tennessee. The ranch's little Western town Rough Cut provides the ideal backdrop for such an event.
This is a real chance for people living in the East to experience a Cowboy Gathering without having to fly out West, and at the same time make some mark against an intruder that is taking away one of the most majestic trees in the Appalachians, not to mention one of the most beneficiary trees to our mountain environment. So you don't have to be a Cowboy to attend, if you love the Hemlock tree or care about our environment or just want something to do to have some family fun, please stop by and celebrate two great things, Cowboys and Hemlocks!
Visit http://www.frenchbroadriver.com for information and tickets --
or call 800-995-7678
###