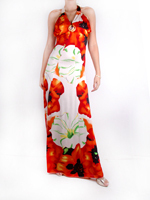 "I wish I had invented blue jeans. They have expression, modesty, sex appeal, simplicity - all I hope for in my clothes." Yves Saint Laurent
Milan, IT (PRWEB) March 14, 2010
In a first days of the Spring, http://www.Milaneze.com - one of the leading fashion stores on-line, brought to its customers a new, sparkling Men and Women Fashion Collection 2010.
"This Spring/Summer 2010 fashion season is really awesome! I have never seen any other fashion trend similar to that one before", says Adam Blackwood, a spokesperson of the fashion store Milaneze.com. "A mix of soft feminine spirit and sexual wildness of Gucci back tops from the latest collection come along with slightly gold blinks of kid's type fairy-tales so evident in Roberto Cavalli floral collection of multicolored dresses! It creates an amazing and mysterious atmosphere of both relaxing calm and a hidden wild power."
Milaneze team, has its own secret of perfection. New Brand name products are fleeing in to its warehouse every day. And, every day new , precisely measured and professionally described products become available to customers on its virtual shelves. 24/7 friendly Customer Support, easy and clear return and guaranty policy, large brands variety makes Milaneze.Com a leader in on-line sales and winner of the multiple on-line awards.
This year Milaneze collections are one of the richest collections of fashion brands on Internet. Targeting buyers with different budgets and tastes Milaneze offers a wide selection of casual, street and classic wear such as stylish and comfortable Burberry polo shirts, perfect style fashion pants and jeans by Dolce&Gabbana, soft and elegant blush, rose and apricot neutrals of floral tops and dresses from the latest collection by Roverto Cavalli, elegant Gucci and Prada and much, much more!
About Milaneze.Com:
Online fashion store Milaneze.Com is considered one of the most popular fashion retailers online. Famous for its high quality services, 24/7 online support, smart payment policy and very affordable prices, it offers high quality original fashion clothing and accessories from the latest fashion collection for men, women and kids.
###