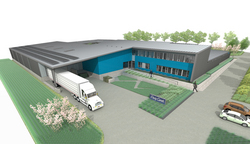 Today I'm announcing that we are going to go for not just a LEED Gold rating, but LEED Platinum. If we do that, we'll be the first and only manufacturing plant in the United States to earn that distinction.
Kansas City, MO (PRWEB) March 14, 2010
A $6.4 million expansion of the city's second largest greeting card manufacturer will boost production, provide new jobs, increase exports and incorporate the latest environmentally friendly technologies in Kansas City's urban core. Further, in a time when many businesses are closing or considering relocation to outer ring suburbs, Posty Card's 25,000 square foot expansion of its operations at 1600 Olive is a testament to collaboration between the company and government agencies to keep and grow business in Kansas City, MO.
On Friday March 12, Missouri Director of Economic Development David Kerr and local officials toured Posty Cards to review progress on its new production, distribution and administrative structure, scheduled to open this summer. The expansion will more than double the size of the existing facility.
Also on Friday, the company's president, Erick Jessee, revealed his intent to have the operation achieve the highest energy efficiency LEED rating of any manufacturing plant in the United States.
"For years Posty Cards has been a leader in utilizing sustainable materials such as soy-based inks and recycled papers," Jessee said. "Thanks to the support we've received from our federal, state and local partners we will be able to extend our high environmental standards to our new manufacturing plant, making it a showcase for our city, our region and the nation. Today I'm announcing that we are going to go for not just a LEED Gold rating, but LEED Platinum. If we do that, we'll be the first and only manufacturing plant in the United States to earn that distinction."
Jessee said the new plant will feature the largest private solar photovoltaic panel installation in Missouri, solar heated water, very high efficiency HVAC, natural lighting with active artificial lighting controls, rain water reclamation for irrigation and flushing toilets, and native plant landscaping. In addition, the facility is Green-e certified with 100% of its electricity offset by renewable wind power.
Multiple levels of government have cooperated to provide incentives for Posty Cards to incorporate energy efficient technologies and to grow its business in the urban core. They include:

Federal Solar Energy Investment Tax Credits
State of Missouri Enhanced Enterprise Zone State Tax Credits; Customized Employee Training Grant; Employee Recruitment and Referral services; Energy Sales Tax Exemption; and, Sales/Use Tax Exemptions on machinery and equipment
Federal and State New Markets Tax Credits (Kansas City, Missouri Community Development CDE and Missouri Department of Economic Development )
Land Clearance for Redevelopment Authority tax abatement, administered by the Economic Development Corporation of Kansas City, Missouri
Kansas City Power & Light Solar and Commercial Energy Efficiency Rebates
"For three generations, Posty Cards has grown and prospered in Kansas City's urban core," said Jessee. "We are thrilled to be staying in our neighborhood and growing our business even more. With this expansion we have room to increase our workforce by more than 50% and to continue providing good jobs in the heart of this great city. We are grateful for the support and cooperation we have received from all our government and private partners. They are clearly focused on keeping business alive and well in Kansas City."
The project design and construction teams consist of McHenry Shaffer Mitchell Architects, PKMR Engineers (Mechanical, Electrical & Plumbing Design), KH Engineering (Structural Design), SK Design Group (Civil Design), Patti Banks Associates (Landscape Design) and Turner Special Projects (Construction Manager).
About Posty Cards
Posty Cards, Inc has been helping companies nationwide to build and maintain business relationships since 1948. The company designs, manufactures, and sells beautiful personalized holiday and all occasion business greeting cards and calendars that are used by thousands of companies to maintain strong ties with clients and employees. The family owned company has been focused on sustainability for several years. All electricity used throughout the company is 100% offset by renewable wind power, promotional catalogs are printed on FSC certified paper and Posty Cards maintains an extensive recycling program. In addition, the greeting cards and calendars are printed with soy ink and many are printed on recycled or FSC certified paper. For more information, visit http://www.postycards.com.
# # #