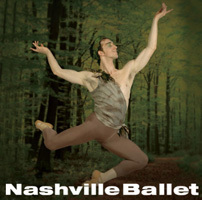 "Vasterling is a gifted choreographer and in all of his works created expressly for Nashville Ballet he is able to showcase his company's unique abilities..."Jeffery Ellis, Broadwayworld.com
Nashville, TN (PRWEB) March 30, 2010
Costumes and sets are being designed by Campbell Baird, the talented designer who created costumes for our new Nutcracker. Each performance will be accompanied by the Nashville Symphony, directed by Nashville Ballet music director Paul Gambill and the sixty-eight voice Nashville Children's Choir, directed by Belmont School of Music professor Dr. Madeline Bridges.
Andrea Dillenburg, executive director states, "One of our goals is to create and present works of art that affect, transform and lift the human spirit. We are so fortunate to have strong community support that wants us to create new works and bring the highest level of ballet to Tennessee. Building a new production also assists in the growth of Nashville Ballet; by owning full productions, the institution builds tradition and strength within the community as a whole. This glorious story ballet is one of the most important works in a ballet company's repertoire and we are proud to have this new production as part of our offering for audiences today and in the future."
Events preceding the performance include story times at the Nashville Public libraries with costumed dancers reading a children's version of this delightful tale and the opportunity to create an arts and crafts project. There will also be a lunch and learn experience through TPAC's Inside Out of the Lunchbox series where people can enjoy a box lunch in Jackson Hall while listening to Artistic Director Paul Vasterling speak about the upcoming performance. This will be augmented with excerpts of the new production by Nashville Ballet company dancers and short scenes presented by The Nashville Shakespeare Festival actors.
Single Ticket Information
Nashville Ballet tickets for all performances can be purchased in person at the TPAC box office downtown or at Davis-Kidd Bookseller in The Mall at Green Hills, or by phone at 615-782-4040. Single tickets can also be purchased online at http://www.nashvilleballet.com. Tickets are priced at $23 for Level 3, $56 for Level 2, $66 for Level 1, and $77 for Premium Level tickets. Groups of ten or more receive a discount. For information on group sales or to purchase group tickets, please call Meredith Benning at 615-297-2966, ext. 10 or email subscriptions@nashvilleballet.com.
A Midsummer Night's Dream Jackson Hall at TPAC April 23-25, 2010
Friday, April 23, 7:30 p.m.
Saturday, April 24, 7:30 p.m.
Sunday April 25, 2:00 p.m.
Nashville Ballet is funded in part from grants made available through the Metropolitan Nashville Arts Commission, the Tennessee Arts Commission and the National Endowment for the Arts, as well as the Ingram Charitable Fund. Additional funding is also provided by HCA/Tri-Star, The Martin Foundation, Regions Bank, Bridgestone Americas Trust Fund, and the Andrew Woodfin Miller Foundation. This performance is made possible by Cathy and Howard McLure.
Nashville Ballet is the largest professional ballet company in Tennessee. As the second largest producing arts organization in the Middle Tennessee area, Nashville Ballet presents a varied repertoire of classical ballet and contemporary works by noted choreographers, along with original works by Artistic Director Paul Vasterling. Nashville Ballet and the second company NB2 (a pre-professional training company) serve over 62,000 adults and children annually through performances, and our education and community engagement programs. Our curriculum-based outreach brings professional productions geared for all levels of students and dance education to community centers, colleges, public libraries, five resident schools, and public elementary and middle schools over a 15-county region throughout Middle Tennessee. The School of Nashville Ballet provides world-class instruction in Ballet for the dancers of tomorrow.
###