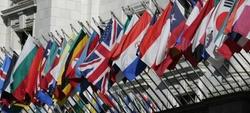 Although Bongo already has a thriving international presence, providing this translation will clearly improve usability and the overall customer experience.
(PRWEB) March 23, 2010
Bongo International is continuing to showcase growth within the cross border e-commerce industry. The company is proud to announce the latest addition, a site-wide translation into 15 languages. BongoUS.com provides international consumers with a U.S. address as a consolidation point for all their U.S. purchases.
The recent upgrade allows consumers in over 220 countries to manage their U.S. purchases and transact in their native language. The process is very simple for consumers to utilize; when the international consumer enters http://www.BongoUS.com, the site will default to the browser's language setting. If the consumer chooses to change the setting back to English or to any other language, they have the ability to use the drop-down menu in the top right hand corner of the site.
Although Bongo already has a thriving international presence, providing this translation will clearly improve usability and the overall customer experience. There is a certain confidence that comes with being able to do business in one's native language, and the vast international customer-base demands this progression. Today, non-native-English speakers make up the majority of Internet users and that number keeps going up. While the ability to use a free internet translator has always been an option, the quality of those translations is frequently lacking. As a result, Bongo selected to receive human translation into the following languages: French, Spanish, German, Dutch, Russian, Italian, Brazilian Portuguese, Chinese, Norwegian, Finnish, Swedish, Japanese, Arabic, Hebrew, and Hindi. These include all of the top 10 ranked internet languages, as reported by the Miniwatts Marketing Group, with the top 2 languages being English and Chinese respectively.
Some of the key benefits for removing the language barrier are further explicated by information from the Common Sense Advisory. According to the Advisory and dating back to September 2006, "Nearly 3 out of 4 participants surveyed by Common Sense Advisory agreed that they were more likely to buy from sites in their own languages than in English. Even more astounding, it was discovered through the surveys, that Global consumers will even pay MORE for products with information in their language." This adaption of translation will only serve to further propel Bongo International ahead of their industry competition.
"Given the prevalence of English in the world market, localization is not a requirement to participate in the expanding cross border e-commerce market. However, we have found that undertaking this effort has broadened our market, reduced Customer Service costs and builds loyalty as we continue to add value to the international customer experience," says Craig Turnbull, Bongo International's CEO.
Bongo International provides an easy transition into international e-commerce for companies based throughout the United States and with varying products. By utilizing the international consumer`s U.S. Address, a retailer only has to ship their product domestically to Bongo`s warehouse in Bridgeport, Connecticut. Conversely, Bongo also provides the international consumer with the tools they need to make an online purchase from a U.S.-based site and have the item forwarded to them in a precise and orderly transaction. The BongoUS translation is focused on making the relevant information for potential clients, both consumer and business based, more accessible. The website contains educational content about the varying components of Bongo's business, and employees strive to manage all logistical hardships by providing superior Account Management, Customs Compliance, Customer Service, and Transport services to all consumers.
About Bongo International
Bongo International is a premier provider of international shopping cart solutions to help retailers expand their business to international consumers. They fraud-screen international consumers and provide them with a U.S. address, giving them the ability to shop on U.S. websites. Bongo's integrated application can easily be implemented on a retailer's site through the use of hyperlinks, converting international consumers into fraud-free domestic orders. By providing a consolidation point for U.S. orders, Bongo can save the international consumer 82% off common carrier rates. Bongo International's application is currently active on more than 800 U.S. retail websites.
Bongo International's website can be found at BongoUS.com
###