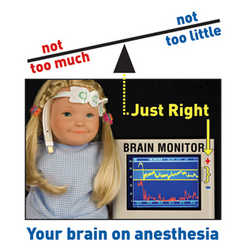 Having general anesthesia without a brain monitor shows a flagrant disregard for the value of one's brain, especially if one is older than 50.
Newport Beach, CA (PRWEB) March 16, 2010
The Orange County Register recently reported that American Society of Anesthesiologists' (ASA) affiliated UCI Hospital was cited for a dangerous, yet common, pain practice typically used for postoperative surgery patients.
"Without preemptive analgesia (i.e. preventing pain during surgery), patients often need narcotic pain relief after surgery," says Goldilocks Anesthesia Foundation president, board certified anesthesiologist, Dr. Barry Friedberg.
In comparison, 'Goldilocks' propofol ketamine (PK) anesthesia patients, using a brain monitor and preemptive analgesia, have only taken Tylenol® or Toradol® after surgery, not narcotics, for postoperative pain, reports Friedberg.
Because there is no Level I study, the Cochrane ketamine report could not evaluate 'Goldilocks' PK anesthesia and translate it into a "specific treatment regime," like the one Friedberg has broadly circulated since 1997.
"The 'Catch-22' is that ASA affiliated university hospitals have shown little interest in validating the use of low profit, generic drugs like propofol or ketamine," says Friedberg. "Seven university centers declined to perform a funded Level I 'Goldilocks' PK anesthesia study designed by Christian Apfel, the world number one authority on postoperative nausea and vomiting (PONV)."
All university hospitals are ASA affiliated to qualify as teaching facilities.
"Failure to study 'Goldilocks' PK anesthesia at the university teaching hospitals is a national problem that deprives anesthesia trainees the chance to learn this patient-centered care paradigm," Friedberg continued.
In 2009, Friedberg volunteered to help UCI perform this critically needed study validating 'Goldilocks' PK anesthesia. The status of this vital study remains in doubt after Friedberg's recent termination from his voluntary university association.
"Without 'Goldilocks PK anesthesia,' millions of patients needlessly suffer postoperative pain and the PONV associated with narcotic pain therapy," opined the Goldilocks Anesthesia Foundation president. "Seventy cents worth of preemptive analgesia (i.e. 50 milligrams of ketamine) could keep millions of dollars of health care resources from being wasted as well."
Friedberg has published that, by directly measuring the patient's brain response, there is a numerical basis upon which 50 milligrams of ketamine can be given 3 minutes ahead of surgery to create reproducible preemptive analgesia (i.e. 'Goldilocks' PK anesthesia or the 'Nifty Fifty' club).
"The all-too-human tendency for patients having surgery is focusing on the body part to be fixed but forgetting that going under for surgery means putting one's most precious asset, one's brain, at risk," Friedberg says.
People over the age of fifty are especially at risk for what the ASA antiseptically calls dementia after anesthesia 'Postoperative Cognitive Disorder (POCD).'
"Widespread use of brain monitors could eliminate most anesthesia related dementia but potentially cost Big Pharma up to 30% of their anesthesia drug revenues. The ASA simply could not function without those millions of Big Pharma dollars that support their activities," says Friedberg. "Could it be that dollars take precedence over patients?"
This new, troubling UCI citation is a timely reason for all patients about to have surgery to go to the Goldilocks Anesthesia Foundation web site and download the essential 9 questions they must ask their surgeon (with the answers they must get) before having general ('going under') anesthesia.
"Unless one doesn't place a higher value on one's brain than the $20 sensor, having general anesthesia without a brain monitor shows a flagrant disregard for the value of one's brain, especially for patients over the age of 50." opines Friedberg.
Goldilocks Anesthesia Foundation is a public, non-profit dedicated to alerting patients to the dangers of the common practice of anesthesia over medication and educating them of the need to make a non-negotiable demand for a brain monitor when they go under anesthesia for surgery.
"The take it or leave it proposition (i.e. monitor-my-brain-or-lose-my-surgery) is the same model for change that enabled fathers' to be in the delivery room for the births of their children," concludes Friedberg. "The only realistic way to get hospitals' attention is by kicking them in their wallets."
Disclaimer: Neither the Foundation nor Dr. Friedberg receive financial support from brain monitor makers.
###