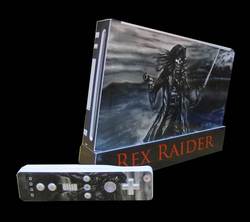 "Many months of work went into the redesign, and precise printing and manufacturing of the White Raider deck
Sherman, TX (PRWEB) March 15, 2010
MagicNetwork.com announces they will be holding contest for magicians with the top prize of a custom Magic Network Wii entertainment console.
Magic Network is a website that caters to close up magicians, in the style of what is commonly referred to as "street magic". They are holding this contest to celebrate the release of their newest deck of custom playing cards, the Bicycle White Raider deck.
The contest will require participants to film their magic performances in a "street" setting and submit their films to Magic Network's website. The videos will then be judged on the merits of technique, skill, presentation, and by how well the magicians evoke an emotional and participatory response from their audience.
The Bicycle White Raider deck is the next installment of the popular Black Raider deck design. The Black Raider deck made Magic Network a household name, practically over night, when the company went live nearly one year ago they were suddenly hit with a tidal wave of domestic and overseas orders for their unique custom playing cards.
Will Cates CEO of Magic Network released this statement, "Making a great deck of cards isn't easy, the only thing that matches our attention to detail is the level of quality control that we, along with USPCC exercise with our custom decks. Many months of work went into the redesign, and precise printing and manufacturing of the White Raider deck, the original design was perfected and tweaked to take the elements that allowed the Black Raiders superior manipulation and push the boundaries of what we could do with the White Raiders."
In addition, it should be noted that the new White Raider Deck comes with an extra special playing card that opens up a world of possibilities for new and exciting magic tricks and works perfectly with the Black Raiders.
Will Cates, "We're very excited about the this contest, the Wii that we're giving away is a custom one of a kind collectible that is sure to please any Magic Network fan, and all you have to do to be eligible to win is to do what you already love, magic."
The contest will be held for one month in which time countless magic tricks are expected to be submitted.
The contest, albeit in a "street" setting does not have any stipulations as to what type of magic the magician performs. All venues and disciplines, i.e. card manipulation, money magic, etc are all welcomed.
Multiple submissions are admissible, but only one will be selected and judged by Magic Network for the contest.
Submissions must be of doing magic for a live audience, Contest starts March 15, 2010 and ends April 15, 2010. The winners of the contest will be announced by April 20, 2010.
First place winner will receive a Magic Nework Nintendo Wii gaming console and a 6 white and 6 black Raider decks
Second Place wins – 12 White Raiders
Third Place wins – 6 White Raiders
Fourth Place through tenth wins- 1 White Raider Deck
Magic Network also plans to release a new section their website during the contest and white raider release, the video download portion of the website which will allow interested parties to purchase and download flash videos and receive expert instruction in magical technique, sleights and new magic tricks.
# # #