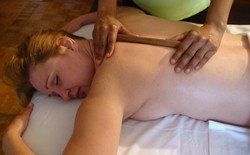 Bamboo rollers will become as popular with massage aficionados as hot stones are
New York, NY (PRWEB) March 18, 2010
"Bamboo rollers will become as popular with massage aficionados as hot stones are," predicts Dorit Baxter, founder and owner of New York Day Spa conveniently located in midtown Manhattan, http://www.newyorkdayspa.com, which recently was the subject of a recent profile in the New York Times, http://www.nytimes.com/2009/12/27/fashion/27genb.html?_r=1. Baxter explains that her spa held a series of training sessions for its licensed massage therapists in the optimal use of bamboo rollers
Enhancing therapeutic massage with bamboo implements has long been popular in Asia and more recently in Europe. The following attributes will ensure a growing popularity in the U.S. for this healing treatment http://www.newyorkdayspa.com/bamboo-massage-259.html
TENDER TOOLS: Mini-rollers flexibly glide over the client's well-oiled body in broad sweeping strokes while the therapist's skillful fingers tenderly loosen tension-tightened points at the juncture of joints.
DUAL EFFECT: The effect of these dual techniques performed simultaneously by a solo massage practitioner is a sensation of being worked on by two therapists at once.
SYNERGETIC WARMTH: Bamboo, derived from woody perennial evergreen grass plants indigenous to East Asia and South East Asia, has a crystalline heat-generating matrix which melds with the temperature of the client's body for a restfully warm treatment.
VERSATILE ENHANCEMENT: Whether the client has requested a deep-tissue session or lighter muscular work, the use of bamboo implements in the course of a massage will be beneficial because combining precise, gentle tools with a focused, healing touch results in relaxed musculature and reenergized mood.
SELECTIVE USE: Massage therapists at Dorit Baxter Day Spa have been trained to intuit in every massage at what phases of the treatment, and for which conditions, the rollers can be most effective, and what size roller will be optimal for which client.
Bamboo Bodywork is a new technique which can be included in all varieties of massage http://www.newyorkdayspa.com/massage-therapies-67.html offered at Dorit Baxter. One-hour massage with bamboo--$95.00, half-hour--$59.00. To make an appointment call 212 371-4542
About Dorit Baxter
Manhattan-based skin care specialist for three decades, Dorit Baxter in 1980 opened a skin care salon in midtown Manhattan and in 1989 expanded to launch one of America's first day spas, featured in Time Magazine (July 22, 1991) as the prototype for an establishment catering to the convenience of busy urbanites seeking beautifying and wellness-promoting treatments in proximity to home and office. Subsequent to the Time Magazine coverage, the Dorit Baxter Day Spa began receiving frequent accolades in all the beauty-and-fashion magazines from Allure to W. Acclaimed press for Dorit Baxter Day Spa continues right up to this day with a recommendation of Bamboo Bodywork for Massage Enhancement from Time Out, http://newyork.timeout.com/articles/shopping/83822/our-obsessions March 18, 2010.
Dorit Baxter Day Spa is known for combining a warm and friendly atmosphere with the highest quality beauty-and-wellness treatments at affordable prices. Spa Packages are a great favorite with Dorit Baxter clients because they provide a variety of popular treatments at generously discounted prices. An original promoter of Dead Sea Skin Care products in the U.S. and an early exemplifier of multi-cultural beauty concepts, today Dorit Baxter offers a comprehensive collection of time-tested skin care products http://www.newyorkdayspa.com/products/categories.php for every skin type.
Contact: Dorit Baxter New York Day Spa
212-371-4542
http://www.newyorkdayspa.com/
# # #