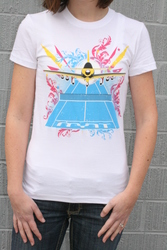 Apparel is the best way for an individual to express their personality
Brighton, CO (PRWEB) March 16, 2010
Mynt Style today launches its cutting edge fashion line for the Spring of 2010. For tennis fans, this is an exciting opportunity to stand out from the crowd, be bold and express their true love for the game. The Spring Collection from Mynt Style introduces a fresh urban look as an alternative to traditional tennis styles.
"After years of attending tennis events and feeling uninspired by the fashion, our vision becomes real with our new line," said Jeffery Nielsen, Mynt Style's founder. "We combined popular culture, fashion and art to represent tennis as an amazing lifestyle." From the casual spectator to the avid fan, there is a new look for everyone. Mynt Style is changing the very concept of tennis fashion and they are inspiring artists from around the globe. Each and every design represents the artist's personal interpretation of tennis.
"Apparel is the best way for an individual to express their personality," says Jeffery Nielsen. "Our idea was simply to take our passion for tennis and move it into a creative expression of style."
Mynt Style has accomplished that and more, and is now available at http://www.MyntStyle.com. For media, please contact Jeffery Nielsen at 303.808.7756.
About Mynt Style
Mynt Style is a tennis apparel company inspired by popular culture, fashion and art and dedicated to bringing a fresh urban look to the sport. Brilliant artists from around the globe have signed on to create incredible designs with a tennis theme. All clothing is of utmost quality and is manufactured in the United States to keep production standards at the highest level. Mynt Style is available exclusively online at http://www.MyntStyle.com.
# # #