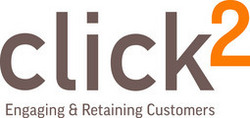 Now more than ever, engaging each and every customer is critically important. As a result, marketers need a platform that enables them to dynamically and nimbly manage a growing number of customer touch points and interactions.
Waltham, MA (PRWEB) March 15, 2010
ClickSquared, a premier provider of email and cross-channel marketing solutions, today unveiled its third generation SaaS (Software as a Service) marketing platform, Click 3G. Click 3G couples robust marketing automation with delivery and execution across email, print, web, survey, SMS and social channels. Click 3G also supports real-time integration to web analytics and manned service channels, delivering unprecedented cross-channel marketing capabilities.
ClickSquared has deep experience in direct mail production, email marketing and delivery, data analytics and campaign management – the result of a series of strategic acquisitions and mergers since its founding in 1999. Click 3G consolidates and integrates the best-of-breed features and functionality from its previously channel-specific platforms and gives marketers a tightly integrated, easily orchestrated, analytics-driven cross-channel marketing and delivery capability.
Re-engineered from the ground up to support the self-service and full service cross-channel marketer equally, Click 3G:

Allows for the easy consolidation of customer data into a single marketing data mart
Provides robust campaign management capabilities to define target segments, audience levels, and channel treatments
Manages and orchestrates multi-wave campaigns
Consolidates cross-channel response tracking
Maps highly personalized and dynamic content across the print, social, SMS and email channels, allowing the marketer to easily create, manage and track multiple content permutations within a single campaign.
"Now more than ever, engaging each and every customer is critically important. As a result, marketers need a platform that enables them to dynamically and nimbly manage a growing number of customer touch points and interactions," said ClickSquared CEO Wayne Townsend. "In addition, this comprehensive offering allows our clients to serve up real-time, multi-channel marketing campaigns in a highly-targeted, automated fashion. Never before have marketers been able to seamlessly orchestrate cross-channel programs in this manner."
Click 3G has been in production use since late 2008 and today more than 60% of ClickSquared's business has migrated to the new platform. "Our production clients run thousands of campaigns per day," said ClickSquared's Executive Vice President of Client Services Steve Morse. "ClickSquared's business objective was to move clients to the new platform without any interruption to their marketing programs – akin to swapping engines while the airplane is flying. Not only were we able to achieve that objective, but our converted clients have been able to expand their channel mix and improve their marketing results by leveraging the capabilities of Click 3G."
ClickSquared was recognized as a 'Strong Performer' in The Forrester Wave: Email Marketing Service Providers Q4 2009 (December 2009) – scoring top marks for Click 3G's systems integration capabilities, transactional messaging, enhanced functionality and its analytics services.
Highgate Hotels Achieves Strong ROI with Click 3G
Leveraging Click 3G, Highgate Hotels, a privately held hotel management company, launched a guest life-cycle marketing program for its independent luxury properties. This cross-channel program utilizes several data feeds which include information on each guest's preferences, booking behavior, and prior stay activity. Triggered communications programs welcome the guest to the hotel, offer tailored services such as on-site dining, respond to cancellations, and stimulate bookings after a decrease in stay activity. The programs have performed exceedingly well with ROIs ranging from 10:1 to 20:1 depending on the property and time of year.
"We are extremely pleased with results we've seen to date using ClickSquared's 3G platform," said Kerry Mack, vice president of revenue management at Highgate Hotels. "Not only have we been able to positively impact RevPAR (revenue per available room), but we've also seen a significant increase in efficiency because of the automation available in Click 3G."
"The top-to-bottom re-engineering effort to develop Click 3G reflects the transformation that we've seen in our clients' marketing needs," continued Townsend. "They needed an ability to personalize and orchestrate cross-channel communications at a very granular level – and then directly execute, deliver and track across those channels – along with robust self-service features. These capabilities are unique to ClickSquared: there's a fundamental difference between creating lists to be passed along to channel-specific applications and service providers, and being able to deliver across channels from within a single platform. The substantial investment we've made in Click 3G underscores our commitment to providing our customers with the tools they need to continually improve the return on their marketing investment."
About ClickSquared:
ClickSquared is a premier provider of email and cross-channel marketing solutions. With innovative offerings ranging from self-service email to highly automated, real-time customer engagement and loyalty programs, ClickSquared's innovative SaaS marketing platform orchestrates and delivers analytics-driven, relevant and personalized customer communications across email, direct mail, social, mobile and web channels. Leveraging a team of marketing, technology and vertical-industry experts that are passionate about our clients' success, ClickSquared enables organizations of all sizes to maximize the return on their marketing investment.
ClickSquared has helped to build some of the world's best known brands including ARAMARK, Boston Celtics, Cable One, Comcast, Dr. Pepper/7-Up, Four Seasons Hotels and Resorts, Greyhound, HomeAway, Hyatt, Montage Resorts, Starwood, Sovereign Bank, and US Gypsum. For more information on ClickSquared, visit the company's web site at http://www.clicksquared.com.
# # #