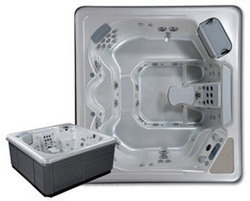 Wallingford, CT (PRWEB) March 14, 2010
The Olympian is the newest addition to ThermoSpas' Fitness Series hot tubs. Designed with aquatic therapy, exercise options and luxury in mind, it is the first ever hot tub in the world to offer all three features in one spa.
According to Tom Allag, ThermoSpas international sales manager, this spa was introduced to the European pool and spa community during Piscine 2009 – the world's largest pool and spa expo in Lyonne, France - to rave reviews.
"The Olympian caught the eye of the European pool and spa community as most innovative hot tub in the industry," says Allag.
Highlighted in EuroSpaPoolNews.com as the latest in hot tub technology and design, the three-in-one concept of a spa designed for aquatic therapy, fitness and luxury is the latest revolution in hot tubs and is exclusive to ThermoSpas.
The Olympian is the first to spa in the world to offer a patented, vertically adjustable seat and ThermoSpas took it a step farther, creating a seat that also allows users 360 degrees of massage options. Users can face forward for a back massage, or rotate a full 180 degrees to face the exterior of the spa and target a whole different muscle group, or 90 degrees to target the Obliques. Since the adjustable seat accommodates individuals of any height, it's perfect for anyone who wants aquatic therapy customized to their physique and stature. In addition, the jets can be adjusted to target anywhere (knees, back, chest, etc) and because the Olympian has been designed with multiple pumps it allows for ThermoSpas' patented Total Control Therapy (TCT). TCT technology allows users in therapy seats to adjust the intensity of those jets, without affecting the experience of others in the hot tub.
As part of ThermoSpas' Fitness Series, the Olympian also is available with attachments for resistance bands and a rowing attachment. These accessories allow users both young and old to exercise in a low-impact environment to tone and strengthen upper body muscle groups. The rowing machine and exercise bands are adjustable for a wide variance of resistance.
ThermoSpas' owner and president, Andy Tournas, says he is very excited about this revolutionary hot tub and what it means to the hot tub industry.
"We've been working on the development of this spa for over a year," he says. "Our design and engineering departments have really created a one-of-kind hot tub; there is nothing else like it in the world. Once again, this sets us apart from the competition."
Ideal for entertaining and family fun, the Olympian Spa's adjustable seat can be easily removed to leave the spa wide open with two elegant seating areas with built-in pillows, a raised child seat and a spacious foot well. The hot tub includes elegant cabinetry, soundproofed operation, energy efficiency, padded seating and pillows and a Corian hard surface built into the top coping. Additional options are an air bubbling system, deluxe lighting, a state of the art sound system, and ThermoSpas patented ThermOzone sanitization system.
For more information please call ThermoSpas at 1-800-876-0158 or visit their website at http://www.thermospas.com.
ThermoSpas, Inc.
Founded in 1983, ThermoSpas, Inc. is a privately owned manufacturer and retailer of hot tubs, swim spas and outdoor living products. Based in Wallingford, CT, the company is the largest hot tub retailer in the world and sells in 19 other countries throughout Europe and the Middle East. ThermoSpas is the recipient of numerous awards and recognitions including the APSP Inspire Award for spa promotion and innovation, the APSP Eagle Award for commitment to industry advancement, and the Better Business Bureau Consumer Education Award. For more information on ThermoSpas, please visit ThermoSpas Hot Tubs
# # #