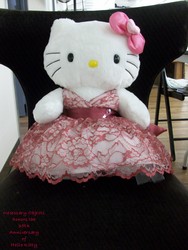 New York, NY (Vocus) March 15, 2010
Hello Kitty has turned 35! In celebration, Necessary Objects was asked to replicate the famous pink lace dress that first daughter, Malia Obama, wore to the Democratic Convention on the evening of her Father's nomination for the Presidency. Malia's pink lace dress was recreated for Kitty to wear in Sanrio's new book, coming out in Spring of 2010, honoring Kitty's 35th year. The pretty pink dress is from the newly launched Necessary Objects Girls Collection. President and Creative Director of Necessary Objects, Ady Gluck, went to work recreating the "PURR-FECT" dress for Hello Kitty. Below are photos of the two fashionistas, Malia Obama, with her family on the night of the nomination, and Hello Kitty in their beautiful Necessary Objects Girls dresses.
The Necessary Objects Girls look translated flawlessly to Hello Kitty, as she too, loves pink and getting dressed up, special occasion or not!
Do not forget to follow Necessary Objects on Twitter and Facebook for the latest updates!
# # #