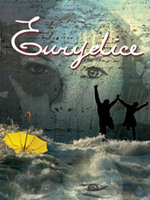 The play, which first had struck me as resonantly beautiful on an artistic level, found a new depth as I experienced my own journey of grief
Newberg, Ore. (Vocus) March 15, 2010
George Fox University's theatre department will perform the play "Eurydice" April 8-10 and 15-18 in Wood-Mar Auditorium on the university's Newberg, Ore., campus. All performances begin at 7:30 p.m. with the exception of the Sunday, April 18 showing, which starts at 2 p.m.
Tickets are $10 for general admission, $8 for seniors and George Fox alumni, and $6 for students and children under 12. To buy tickets, call the university box office at 503-554-3844, visit the Bruin Bookstore on campus, or go online to theatre.georgefox.edu.
The ancient myth of Orpheus and Eurydice is a timeless love story that has inspired the imaginations of poets, artists, composers and writers for centuries. Orpheus' journey of passion and grief has resonated with readers in the 2,000 years since Ovid wrote his poetic version of the legend in "Metamorphoses."
"Eurydice," written by Sarah Ruhl and featuring students in the university's theater major, is a contemporary, fantastical retelling of the myth of Orpheus. Orpheus's lover, Eurydice, dies on her wedding day and travels to the underworld, where she meets her father and struggles to remember her lost love. Ruhl's world features raining elevators, a room made of string, talking stones, and messages sent through the earth via worms. Guest director Megan Weaver will direct the production.
"The play, which first had struck me as resonantly beautiful on an artistic level, found a new depth as I experienced my own journey of grief," Weaver said of the play. "And within Eurydice's strange journey I found some achingly familiar questions: What is death? How do love, language and memory create and define one another? How does one grieve an indescribable loss?
"Throughout the creative process, this play has repeatedly invited us to an open-hearted exploration of the beautiful, bizarre contours of human emotion."
George Fox University's theatre department was recently honored when Rhett Luedtke, an associate professor of theatre at the university, was one of only eight faculty members chosen nationally to receive a National Directing Fellow Award from the John F. Kennedy Center. In April he will travel to Washington, D.C., for the National Kennedy Center American College Theater Festival, where he will work in master classes in directing with directors from around the country.
Previously, George Fox was recognized by the John F. Kennedy Center for Performing Arts in Washington, D.C., which honored the institution with awards for individual acting, set design, and overall production. The university received American College Theatre Festival Meritorious Achievement Awards for set and light design and sound design for the 2005 production of "Machinal" and for directing and set design for the 2006 production of "The Secret Garden."
George Fox University is ranked by Forbes as one of the top 100 colleges in the country and highest among Christian colleges. George Fox is the only Christian university in the Pacific Northwest classified by U.S. News & World Report as a national university. More than 3,300 students attend classes on the university's campus in Newberg, Ore., and at teaching centers in Portland, Salem, and Redmond, Ore., and Boise, Idaho. George Fox offers bachelor's degrees in more than 40 majors, degree-completion programs for working adults, five seminary degrees, and 12 master's and doctoral degrees.
Contact:
Rhett Luedtke
Department of Performing Arts
503-554-2632
# # #