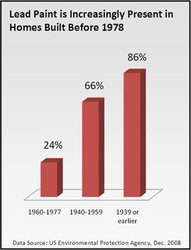 We hope to create a greater awareness of these issues and provide valuable information to people who live in old houses nationwide
Foster City, CA (PRWEB) March 15, 2010
In support of National Poison Prevention Week, March 14-20, OldHouseWeb.com -- a leading website offering ideas, articles and resources to old-house enthusiasts -- has published, Lead Poisoning and Children: The Risks in Your Old House. This guide discusses how to identify and address the risks from lead, a toxin frequently found in old homes.
"The National Poison Prevention Week Council does a great job of promoting poison prevention in communities across America," OldHouseWeb.com Spokesperson, John Koo said. "And while there has been recent press on lead in imported toys and household products, materials used in old house construction present a significant source of lead poisoning, especially for children. We hope to create a greater awareness of these issues and provide valuable information to people who live in old houses nationwide."
According to the U.S. Environmental Protection Agency (EPA), homes built prior to 1978 are much more likely to contain lead-based paints, and over half of the homes built between 1940 and 1960 contain lead-based paint. "Lead Poisoning and Children: The Risks in Your Old House" published on OldHouseWeb.com educates old-home owners on the dangers of lead poisoning, ways to identify lead-based paints and steps to take to minimize and protect their families from lead poisoning.
"Be very cautious when performing house repairs, restoration, or remodeling," OldHouseWeb.com columnist and home inspector, Bill Kibbel warns. "This can disturb and distribute large amounts of lead containing dust throughout your family's home."
Lead poisoning is not to be taken lightly; children exposed to lead can suffer brain damage, impaired mental or physical function, headaches, and learning or behavioral problems. Among adults, lead poisoning can cause irritability, reduced muscle function, nerve damage, elevated blood pressure, memory problems, muscle or joint pain, and reduced reproductive ability. In pregnant woman, lead exposure can hinder proper fetal development.
In addition to "Lead Poisoning and Children: The Risks in Your Old House," OldHoseWeb.com has published a number of articles and a video related to the lead-based paint contamination in the home:

The U.S. Congress established National Poison Prevention Week on September 16, 1961 (P.L. 87-319). The Poison Prevention Week Council was organized to coordinate the annual event and promote poison prevention. For more information visit PoisonPrevention.org.
OldHouseWeb.com is a complete old-house remodeling interactive Web site offering old-house enthusiasts how-to resources spanning several industries from cabinetry to architecture. OldHouseWeb.com includes before and after renovation pictures, feature articles, a product showcase and an active forum featuring thousands of questions, solutions and successes.
# # #