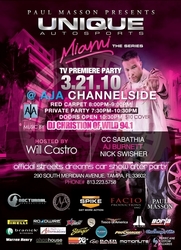 "We are going to give our fans a behind-the-scenes taste of what it's like to be in our Unique world," said Castro.
Miami, FL (PRWEB) March 15, 2010
Will Castro's star-studded new-car customizing series "Unique Autosports: Miami," will premiere Sunday, March 21st at 10:30-11:00am (ET/PT) on Spike TV. The all-new eight-episode half-hour series - produced by Facio Productions - will run as part of the network's successful weekend PowerBlock programming.
Each episode will feature celebrities from the world of entertainment and sports as they have their vehicles customized by the King of Customizers, Will Castro and his team at Unique Autosports: South - the highly acclaimed Miami-based car customizing and design shop.
"We are going to give our fans a behind-the-scenes taste of what it's like to be in our Unique world," said Castro. "The show highlights the people, places and relationships that make Unique Autosports special. The series will explore the ups and downs of our industry and our move to Miami from New York, as well as give fans an up-close and personal look at their favorite celebrities and their Unique Special Edition vehicles as well as the relationships we make along the way."
Some of the celebrities featured in the new season are 2009 World Series Champions: CC Sabathia, AJ Burnett and Nick Swisher of the New York Yankees; NASCAR driver/owner Tony Stewart; NBA All-Stars Amare Stoudemire and Jermaine O'Neal; former New York Giant football star and current Fox NFL Sunday analyst and Pros vs. Joes host Michael Strahan; hip-hop artist Fat Joe and many, many more, as well as Castro and his team of world-class customizers.
"The automotive ingenuity of Unique Autosports coupled with the star power of his friends and clients on the show make this series the perfect complement to Spike TV's PowerBlock lineup," said John Griffin, vice-president, programming, Spike TV.
Recognized as one of the biggest influencers in the automotive customization and luxury style and performance industries for over twenty years, Castro and his highly-acclaimed Unique Autosports brand are world-renowned for setting the 'tone at the top' for brands such as Motorola, GM, JL Audio, Toyota, Pirelli, 3M, Jeep, Dodge, Stinger and many others. Production on the series takes place at Unique Autosports' 47,000 square-foot global headquarters in Miami where Unique Special Edition vehicles are customized and shipped around the globe. Unique also customizes yachts and unique high-end homes for exclusive clients and has a clothing line.
Spike TV is available in 98 million homes and is a division of MTV Networks. A unit of Viacom (NYSE: VIA, VIA.B), MTV Networks is one of the world's leading creators of programming and content across all media platforms. Spike TV's Internet address is http://www.spike.com and for up-to-the-minute and archival press information and photographs, visit Spike TV's press site at http://www.spike.com/press.
Unique Autosports: Miami premieres on Spike TV's PowerBlock on Sunday March 21st at 10:30 AM EST and will air each Sunday this season.
For more information on Unique Autosports: Miami please visit: http://www.uniqueautosport.com
Media Contacts:
Will Castro, Unique Autosports
305.871.1400 will(at)uniqueautosport(dot)com
Joe Severns, Integrated Marketing Communications
706.506.2195 severns(at)mchsi(dot)com
###