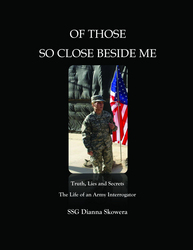 "A powerful, provocative, informative, and hugely important book. A superb resource for anyone interested in the current conflicts and the issue of interrogation in war." Lt. Col. Dave Grossman, author of On Combat and On Killing
New York, NY (PRWEB) March 14, 2010
The tale of a group interrogators created to re-new the face of detention operations in a time of scandal after Abu Ghraib, Of Those So Close Beside Me is an OIF memoir like none other. Unique on so many levels, the unit's story is told by a female interrogator who takes you up close and personal to military life, detainees, and the main Iraqi detention facility with an earnesty that is refreshing.
In 2006, the U.S. Army planned to create a series of four interrogation battalions to change the way the U.S. military conducted detention operations. These battalions would do something never heard of before-consist almost entirely of interrogators that would live, sleep, and breath together for the next three years through traditional and non-traditional training to prepare them to run the main theatre internment facility in Iraq. The story of the first unit to spearhead the way of the future for interrogators is told by Staff Sergeant Dianna Skowera, a diminutive farm girl who was challenged with numerous tasks within the unit. Skowera's many responsibilities allowed her to bring a story to life that would ordinarly have to be recounted by five people.
Skowera has told a journey few have traveled and in a compelling, honest, humor that takes you all the way from Illinois to Iraq right along with her. You will see a unique corner of the life in the Midwest, life at a selective military language institute, and how a unit's soldiers deal with preparing to conduct a mission in a way that has never been done before.
Of Those So Close Beside Me takes you into the detention facility and allows you not just a view, but a full fledged persepective of daily life for detainees in Iraq. Once you have read this book you will know what it is like to be an insurgent and an innocent Iraqi civilian in a detention facility. You will know what life is like for interpreters, U.S. contractors, and the soldiers who walk the camp grounds of a select few. This book will be an excellent reference for ages to come about the culture of today's military enlisted, the lives of Iraqi detainees, and our ever changing military conflicts.
###