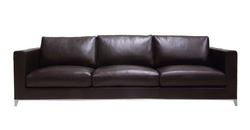 The goal of the website is to provide users with details of all our products, highlighting zientte´s competitive prices, quality textures, unique leathers and reliability.
Miami, FL (PRWEB) March 15, 2010
Zientte launches an online campaign that harnesses the power of social media
Zientte, a company with 25 years experience in manufacturing contemporary furniture, announces the launch of their online store to augment 14 stores in 6 countries.
In addition to the new website, Zientte has also implemented a social media campaign to include accounts on Twitter and Facebook. According to Lloyd Salmons, first chairman of the Internet Advertising Bureau, "Social media isn't just about big networks like Facebook and MySpace, it's about brands having conversations." Encouraging user participation and dialog, Zientte hopes to spread their philosophy regarding modern design and customer service.
All furniture is designed, developed, and produced in-house. Customization according to customer's specification can be completed in as little as eight weeks. Through their online store, clients can purchase directly from the factory and bypass the expense of a middleman. Experts in specialty leather and fabric, Zientte offers over forty configurations with eighty different leathers and fabrics from which to choose.
Many contemporary companies are utilizing social media to create a buzz about their products with different degrees of success. A badly managed social media campaign can backfire if not handled correctly. CNET reports according to Neilsen ratings that Facebook alone has over 206.9 million users worldwide, garnering 67% of the social media audience. A well-run social media campaign can take a business from a local success to a global phenomenon.
Zientte has been on the cutting edge of contemporary and modern furniture design, and by launching an online store with social media support, continues to stay on the edge. Traditional businesses are seeing the power inherent in the ability to reach millions of people through free sites and services such as Twitter and Facebook, changing the face of advertising.
About Zientte
Based in Miami, Florida, with a staff of over 130 people, Zientte boasts over 25 years experience crafting quality contemporary furniture. Specializing in modern leather furniture and fabric, Zientte offers modern designs in sofas, beds, chairs, and hand-made coffee tables.
Contact
Visit one of our stores in South Florida (now shipping nationwide)
Zientte Downtown Miami
151 SW 7 St Miami, Fl 33130
786 333 5858
Zientte Coral Gables
480 Biltmore Way
Coral Gables, Fl 33134
info(at)zientte(dot)com
http://www.zientte.com
###