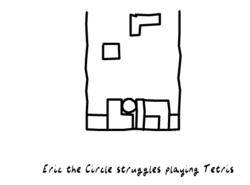 Sometimes 140 characters just isn't enough. Eric the Circle provides a common language for people to share their thoughts and ideas. It's kind of like 'visual tweeting' for the age of social creativity
(PRWEB) March 15, 2010
Eric the Circle is the world's first truly un-authored cartoon character. He is created by the people, for the people. True to his circle nature, Eric brings together elements of social media, publishing, crowdsourcing, and merchandising in a novel and creative way.
Eric is the circle that wants to bring the world together. He believes that everybody has a story to tell and a comment to make. As a character of the people, Eric the Circle is the cartoon that anybody, and everybody, can draw. The secret to Eric the Circle is the stylised draw-pad on the website. Within seconds you can view how to draw an Eric cartoon and then be creating your own. Once created, within a click you can publish to your friends via a myriad of social networking options.
Eric the Circle is the social creativity platform that allows people to comment and share in a visually entertaining way. Eric the Circle blurs the old delineation of the author and the reader, as for the first time an un-authored, un-credited character (Eric the Circle) is turned over to the community to do with as they will. From day one, Eric is the circle of the people, for the people, allowing unprecedented flexibility to create, rate and share.
Eric goes further, with creations being digitally earmarked to track their usage with a view to remunerating the initial author. The intent is, when Eric cartoons are used in activities like publishing, syndication and merchandise the initial author will share in the profits. The seamless links to the Eric the Circle experience, from multiple access points, including social media, brings together existing digital technologies and takes them to a whole new level of integration.
Eric the Circle will let consumers not only determine the content they want, but create it themselves. They can then choose to share it, and shortly will be able to put it on merchandise, or incorporate it into their Eric the Circle iPhone application or online game. As the world's first draw-it-yourself cartoon and truly social circle, Eric hopes to bring the world closer 'one circle at a time'.
# # #