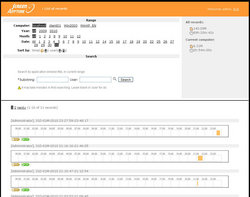 (PRWEB) March 22, 2010
Stepok Image Lab. has introduced the new version of Screen Anytime, computer monitoring software recording user sessions into video log files. Screen Anytime 4.0 features a built-in HTTP server allowing managers to view records remotely using an Internet browser.
There are numerous reasons for monitoring computer activity, from ensuring high productivity to dealing with security issues. But regardless of a reason it's necessary in this case to have quality software that allows recording Windows sessions 24/7 or monitor computer activity in real time if desired. Developed to meet this need, Screen Anytime provides advanced monitoring capabilities that include recording, viewing, searching and managing screen activity of the network users.
Version 4.0 delivers the number of new features to make monitoring even easier. To be convenient Screen Anytime now allows accessing and managing records through a web browser (including Internet Explorer, Mozilla Firefox and Chrome). The new version features search by keywords, so any user can find what he or she needs within seconds without having to rummage through megabytes of records. To save time the user can also choose to view only snapshots instead of watching the whole record.
Screen Anytime at a Glance
Powerful tool, Screen Anytime provides with video logs of everything that's going on a screen, including mouse cursor movement and changing application titles. The software, however, does not record keystrokes, thus ensuring that no passwords will be stored and that users' privacy won't be violated.
Thanks to the advanced screen video compression technology one hard drive can keep security logs worth for months, with an average of 4 GB a month for one workstation operating about 8 hours a day under full load. The smart software will sort the logs by timeline, terminals and users. What's more, the user can configure Screen Anytime to record only those sessions that meet pre-defined conditions. So, the program can be set to record only the sessions within the specified time slot, select the users to be monitored, and so on.
With Screen Anytime its users can easily check how many hours employees actually spend working, or can efficiently prevent data leakage.
Pricing and Availability
Screen Anytime 4.0 Server Edition runs under Windows 2003 and 2008 Server, and Workstation Edition requires Windows XP, Vista or Windows 7. Server Edition costs $599, and Workstation Edition is available at $199. Licensed users are entitled to free minor version upgrades and technical support for 12 months from the date of purchase. Further information on the product as well as the 60-day free trial version is available at http://www.screen-record.com/screen_anytime.htm
About Stepok Image Lab
Founded in 2002, Stepok Image Lab is focused on the development of image processing and multimedia software. The goal of Stepok is to develop and provide quality solutions for both beginners and professionals. For more information, please visit http://www.stepok.net/
# # #