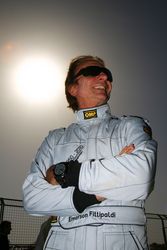 We are incredibly proud and excited to have someone of Emerson Fittipaldi's iconic stature associated with TW Steel
Amsterdam, The Netherlands (Vocus) March 15, 2010
TW Steel, the Dutch-based international watch brand – specializing in oversized timepieces, announced Sunday at the 'Bahrain Grand Prix' that Brazilian racing legend, Emerson Fittipaldi, is to become a Global Brand Ambassador.
Additionally, TW Steel has announced that to celebrate the association, it now plans to produce a TW Steel Emerson Fittipaldi watch – the design of which will feature direct input by Emerson himself.
Present at the Bahrain International Circuit to celebrate the 60th Anniversary of the Formula One World Championship, Fittipaldi, the 1972 and 1974 F1 Drivers Champion, was unveiled to the assembled international motorsport media as the latest ambassador for 'The Watch in Steel'.
"We are incredibly proud and excited to have someone of Emerson Fittipaldi's iconic stature associated with TW Steel," commented Stewart Bain, TW Steel's Chief Commercial Officer. "Emerson has a real energy about him that's incredibly infectious. When we first introduced him to TW Steel he was so enthusiastic about the product we knew we wanted to partner with him immediately. We're looking forward to working with him both as a brand ambassador but also as a commercial partner.
"With that in mind we will liaise with Emerson to design and produce a watch baring his name – something I'm sure fans of both his and TW Steel will embrace as a unique and exceptional timepiece. The fact that he has never been involved in such a personal design project before is a testament to not only his belief in TW Steel, but also his desire to offer a product that truly reflects the values that made him a legend on the race track and so popular off it."
On his association with TW Steel Emerson Fittipaldi remarked; "I am naturally very excited to become a global brand ambassador for TW Steel. They boast a tremendous collection of watches and I'm obviously thrilled to be working with them to design a signature Emerson Fittipaldi edition. Watches are something I've always had an interest in but to be given the opportunity to work with TW Steel and create my own is very special. I look forward to sharing this project as it develops and representing TW Steel around the world."
The 63-year-old from Sao Paulo, Brazil, retains his worldwide popularity courtesy of his enduring passion and enthusiasm for his sport.
Following his success in Formula One, Fittipaldi enjoyed similar levels of success competing in North America. A two-time Indy 500 Champion, his triumphs coming in 1989 and 1993, Emerson also captured the 1989 CART Championship for Team Penske.
Details of the TW Steel Emerson Fittipaldi watch will be announced in due course. TW Steel will maintain a continued presence in Formula One this season as the 'Official Timing Partner' to the Renault F1 Team – part of a three-year relationship announced last October.
TW Steel, celebrating its fifth anniversary in 2010, continues to develop and lead the oversized watch market. A family-owned company, headed by 27-year-old Chief Executive Officer, Jordy Cobelens, 'The Watch in Steel', has emerged as an innovative, bold lifestyle brand – now available in over 50 countries worldwide.
For further information please contact Stuart Morrison – TW Steel PR & Communications Manager: Office: +1 514 684 2621 / Mobile: +1 514 945 3253 / Email: stuartm(at)twsteel(dot)com
Pictured – 'Emerson Fittipaldi at the Bahrain Grand Prix – Saturday 13th March 2010' – TW Steel
Image Downloads Available - http://www.flickr.com/photos/45415753@N04/
Press releases and high resolution product images are available to download via the 'Media' section on the official TW Steel website – http://www.twsteel.com - Username: pressmember / Password: twxs01
# # #