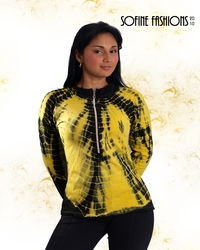 For today's woman, "fitness" is no longer part of a weekly schedule – it's a lifestyle.
Laurel, MD (PRWEB) March 22, 2010
Sofine Fashions announced today new market introduction of Spring/Summer 2010 Women's Active Wear Apparel designed by Myrna Sandnes.
Sofine Fashions Company and web site owned and operated by Colombian native Myrna Sandnes introduces fashion forward and high-quality, affordable fitness active wear for yoga, Pilates, cardio, spinning and running clothing.
Sofine Fashions is delighted to welcome the Women's Active Wear 2010 collection will cater to stylish and fashionable women who love be sexy casual and active wear. In designing our sports wear line Sofine listened very carefully to the test market research results from numerous women's groups regarding the design, quality of material that wears well and absorbs the perspiration, and breathes. The result of Sofine new introduction is a very appealing fashion forward women's fitness clothing line.
Shopping online has never been so easy for Americans. A clean, simple to use website and the selection of wide variety of clothing for Yoga, Pilates, Cardio, Running or just walking around town.
"When I'm designing the sport wear clothing, I'm choosing bright, abundance of vibrant colors, materials," says Sandnes."You're happier about working out when you're putting on brightly colored clothes that make you feel good and look great. You get more motivated to exercise and develop that mind-body connection of feeling healthy and being happy with how you look." Myrna Sandnes style is a a glimpse of her radiant Hispanic background and her love to travel around the world, meeting different cultures, different people, and observing different styles. Sofine Fashions Women's Fitness Clothings represents a definite fusion of those styles.
Companies interested in purchasing wholesale should contact us directly. http://www.sofinefashions.com
About Sofine Fashions, LLC:
Sofine Fashions is a Laurel, Maryland based Women's Active Wear Company. All products featured are exclusively designed by Sofine Fashions and undergo a rigorous quality selection process. Sofine Fashions primary objective is to exceed expectations in product quality, design and customer service while exceeding expectations. Enjoy our products and a great journey while working out to good health.
###