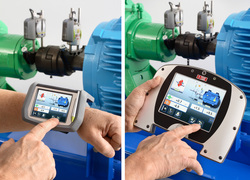 "At Fixturlaser we think it's high time the industrial maintenance sector benefit from the consumer electronics trend towards smaller, more portable products.
Richmond, VA (PRWEB) March 16, 2010
VibrAlign, Inc., the U.S. distributor of laser shaft alignment systems from Fixturlaser, is introducing a new display unit (DU) option for the Fixturlaser XA. This new display unit, the UPADXA, is designed to be worn on the user's arm. This allows the user to have his hands free while performing alignments.
The UPADXA display unit can be interchanged with the original XA hand-held display unit. Both display units are wireless and can handle all the functions of the XA from advanced shaft alignment to geometric measurements. When purchasing an XA, the buyer can specify either the hand-held DU or the hands-free UPADXA DU, or can purchase both.
The new UPADXA DU has all the functionality of the larger hand-held display unit, but with a smaller, 3.5 inch screen. The screen, with VGA resolution of 640 x 480 pixels, is backlit and trans-reflective to provide good visibility in poor lighting conditions as well as in strong sunlight.
Like its big brother the UPADXA touch-screen uses animated, on-screen graphics to guide the user through the alignment process. Color-coded measurement values and icons provide ready indication of the alignment condition during the alignment process. The UPAD is equipped with a Velcro® strap that keeps it in place on the user's arm.
About VibrAlign, Inc.
VibrAlign, Inc. is the U.S. distributor of the Fixturlaser line of laser measurement and alignment systems. Headquartered in Richmond, VA, Vibralign sells, rents and services a full range of laser alignment and measurement tools. In addition, VibrAlign fields a team of highly experienced service providers who are respected as experts in vibration analysis, balancing and machinery alignment.
About Fixturlaser
Elos Fixturlaser AB develops, manufactures and markets laser based measurement instruments for alignment and positioning of rotating machinery. Our measurement systems are user friendly tools that minimize the number of operations involved in the alignment process – "Express Alignment by Fixturlaser".
###