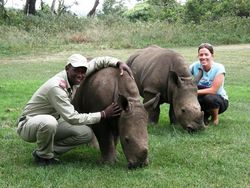 "We do not believe in keeping captive animals", said owner Lawrence Anthony, "The only good cage is an empty cage."
Buffalo, New York (PRWEB) March 16, 2010
Last August, Dr. Leslie Glassbrenner, of Gentle Dentistry of East Aurora, traveled to South Africa on an Eco-Safari organized by the Earth Organization to a wildlife reserve and adopted a White Rhino to help save them from extinction.
Having few natural predators other than humans, rhinos are killed for their keratin-containing horns, which is used in expensive medicines. Registered as 'vulnerable' by the International Rhino Foundation, the Southern White Rhinos are the most abundant species, with about 17,500 remaining in the wild, but have been steadily on the decline and are in danger of extinction in our lifetime.
Lawrence Anthony, owner of the Thula-Thula reserve, asked Dr. Glassbrenner if she would be interested in adopting a baby white rhino to be a companion to Heidi, the only rhino left on the reserve.
Without hesitation, she agreed to bring Thabo to the reserve. Tragically, before baby Thabo arrived, Heidi was killed by poachers wanting her horns. Two months later,on October 25, 2009 baby Thabo arrived at Thula-Thula after a fourteen hour trip.
Thula-Thula acquired the rhino after the one-day-old calf was found alone and badly dehydrated in a Free State game reserve.
Thula-Thula will care for him until he is old enough to get released into the wild. "We do not believe in keeping captive animals," said owner Lawrence Anthony, "The only good cage is an empty cage."
To aid in his release, the search began for a baby female rhino. The search was successful.
Baby Ntombi was rescued after her mother got killed in front of her and on December 22, 2009 she arrived at Thula-Thula.
In Africa, Dr. Glassbrenner visited a local hospital and taught the children there how to brush their teeth and presented them all with toothbrushes.
Dr. Glassbrenner, owner and CEO of one of the fastest growing dental practices in Western NY, is never deterred from helping others when she can. Planning another trip this summer to visit Thabo and to teach more children dental hygiene, she encourages anyone interested in saving animals or helping the children of Africa, to plan their trip to Thula-Thula. (http://www.thulathula.com)
"It will change your life. You will never be the same again," says Dr. Glassbrenner.
Gentle Dentistry of East Aurora, NY is located at 215 Main St. East Aurora, NY 14052. Their newly opened office located at 5007 Transit Road, Depew, 14043 is accepting new patients. For more information call 716 655 7080 or visit them at http://www.wearegentledentistry.com
Founder of the international "Earth Organization" (http://www.earthorganization.org) and author of two books: "Babylon's Ark", the incredible wartime rescue of the Baghdad Zoo, and, "The Elephant Whisperer", the extraordinary story of one man's dedication to save his herd, Lawrence Anthony received the prestigious Earth Day Award at the UN in March 2004 for his rescue of the animals at the Baghdad zoo.
# # #