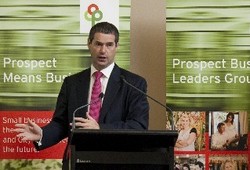 'The vision outlined by Prospect is the best in the country' Senator Conroy
(PRWEB) March 16, 2010
Senator Stephen Conroy, Minister for Broadband, Communications and the Digital Economy launched the City of Prospect's Digital Economy Strategy on the 5th March, declaring the Strategy the very best in Australia.
Speaking at the inner Adelaide suburban Council's annual business leaders breakfast Senator Conroy said 'I travel all around Australia. I talk to a lot of councils, there's a lot of excitement and enthusiasm and there's strong competition for title of the absolute best. The vision outlined by Prospect is the best in the country'.
Prospect's digital economy strategy has been an 18 month journey that has included pilot projects to prove the strategy's deliverable outcomes. City of Prospect CEO Mark Goldstone said 'the development of the strategy was in response to demand from our local business community for bigger and faster broadband, research into the potential of our economy and the future roll out of the National Broadband Network'.
Mr Goldstone said there is little point in declaring your desire for your council to be first to see the roll out of the NBN in your city, if your businesses and residents don't understand what to do with the fibre. 'Prospect has been developing projects around the NBN that we have proven deliver real benefits to the community and council. The results have been outstanding'.
'Senator Conroy's comments on our strategy are the icing on the cake and we regard as a high accolade in such a new space as the digital economy. Not only are we proud of our number one position, but we also believe we have created a world first strategy for a local government authority', Mr Goldstone said.
City of Prospect has marched ahead of the NBN and is currently rolling out its own optical fibre to service its library, Civic Centre and Depot. The route of the fibre bundle has been strategically planned to roll past two local primary schools and a main retail shopping street precinct to encourage further take up of the fibre by local schools and businesses.
A core project of the released digital strategy is to support local small businesses in understanding how to trade over the internet. This project won pilot funding from the state government's Department for Further Education, Employment, Science and Technology. From the pilot project 140 local SME's undertook the two and one half day program, which in many instances transformed the business model of the participating businesses.
Steve Harrison Director of Business and Economic Development and joint architect of the digital strategy said 'to see business owners and managers come into a training program thinking they were going to learn about e-bay and be totally blown away by what they did not know and what they now know about the Digital Economy, was tremendously satisfying'.
'There certainly was an element of 'build a website and they will come'. Ninety percent of those participating had no idea of the work you need to do for a search engine like Google to capture your business and earn a 'page one' ranking', Mr Harrison said.
Australia's number one digital economy strategy has also created some Australian firsts such as a digital daily newspaper Prospect INDAILY. A collaboration with Solstice Media, INDAILY is emailed to over one thousand volunteer residents and businesses that have registered to receive the e-newspaper. The e-newspaper includes international, national and regional news with one page daily devoted to council news, that is not subject to editorial change.
Prospect has also introduced an open access wireless service at its library to support 'digital warriors' who like to have access to their laptops as they travel around the city. 'The wireless service is incredibly popular and it is not unusual to see cars parked around the library at 8am with laptops up on steering wheels and drivers checking out their daily diary online', Library Manager Anne Gowin observed.
Mr Goldstone said 'We have developed 14 projects in our Digital Economy Strategy that we believe will ready our business and residential community for the NBN. We are determined to support our community and ensure that they have the skills and knowledge to use broadband to its fullest capacity, that in turn will drive micro economic diversity, wealth generation and improve social wellbeing. And we plan for the benefits to be shared by creating equitable opportunity for our community to be involved and engaged in the global digital economy'.
City of Prospect's Digital Economy Strategy is the foundation strategy used to create a National Broadband Network proposal from the Eastern Region Alliance of Councils that was also presented to Senator Conroy at the Prospect breakfast.
# # #