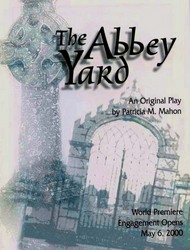 After 20 years of writing and refining this ghost story, Mahon has now infused it with the panoramic elements of film writing and the rich characterizations and lush settings of fantasy fiction.
Canoga Park, CA (PRWEB) March 15, 2010
The Abbey Yard by Patricia M. Mahon is a ground-breaking "Fantorical" ... a blend of Irish Theology, History, Mythology, and riveting Fantasy that explores the world of three vibrant, strong and tragic female characters at various stages of life. Based upon actual historical events, The Abbey Yard is an Irish ghost story written in multiple genres. It appeared as an original Los Angeles stage play (produced in 2000 at The Odyssey Theatre), an award-winning screenplay (2005), and a new work of historical fiction 2010.
The Abbey Yard is narrated by Bartholomew Beag Ailill O'Tuathalain, a local Luchorpan who sits outside the back door of The Dew Drop Inn desperately trying to give away his gold. The story opens upon a man's mysterious return to Graignamanagh (literally The Village of the Monks) over a dozen years after he is apparently murdered. The infant daughter that he left behind is now a precocious girl of thirteen who is inexplicably drawn to an old cemetery surrounding an ancient Abbey at the village center. The Abbey is occupied by presences and a distinct, audible "chant" believed to be the monks that were slaughtered there in the main Nave in 1536 by soldiers of Elizabeth I. According to historical accounts, the twelve monks continued to chant in unison as they lost their heads to the sword.
Bartholomew describes our young protagonist, Sadie Connelly, as "a mosaic of color with golden hair, bright cerulean eyes, blushing cheeks, and huk'a berry blue fingers and lips." She is being raised by her mother's sister Maeve McKenna. Maeve is an attractive but melancholic woman that is married to the older and somewhat hapless Seamus McKenna who takes refuge from his unhappy marriage at The Anchor Lounge on the banks of the Barrow where it is "dark and cool and filled with possibilities." Maeve finds her refuge in the hot and steady fire that roars in her kitchen hearth "illuminating the contours of time" that have settled on her face. She is an aging beauty with a sorrowful past. She has lost in life and in love and spends her days waiting for things to change and for Sadie to come home from her daily visits to her grandmother's house.
Sadie's grandmother, Muddy Connelly, is the matriarch of the Connelly clan. She a wild, wise and second-sighted woman who sits secluded up in the "cottages" high up on Brandon Hill mumbling ancient rhymes. A Celtic prophetess, Muddy is the embodiment of Irish contradiction. While she reveres the church, she is also mindful of pagan myths. She believes in the Irish saints and martyrs, but also has great faith in Celtic spirits and fairies. Muddy tells us that she has "a great deal of old furniture in her head" for her visitors who consist of various creatures, both real and imagined, from both Irish folklore and mythology. She tells Sadie that life is only "five minutes" and that just five minutes ago "I was your age." Muddy understands both the cycles of history and the power of the Abbey, and she implores Sadie never to pass by the Abbey on her way home.
Despite her grandmother's warnings, Sadie makes several secret, late-night visits to "the Yard" with her timid friend Jennie Fury. There she encounters a handsome, young "gentleman from the city." She initially flees in fear, only to return and later engage him in lengthy conversation. Her description of him sets off a frenzy of unnatural activity and sparks an impassioned search for John Holden that consumes the Village.
The story of The Abbey Yard takes us across mythical barriers, down rural faery paths, and over ancient holy walls. We meet beasts of all sizes and shapes. Some resembling animals, others withered old men. There are beautiful queens and rough, lumbering giants. There are Celtic faeries, wood elves, and pixies as well as fingerless, toeless hunchbacks that dance in the wild revelry of alluring music. While the hunt for Holden fails to turn up any living thing, it does manage to unearth shocking local scandals, nationalistic passions, theological doubt, and the enduring and compelling mysteries that crowd the Celtic twilight.
###