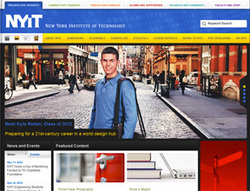 This idea of giving students open access to the Web site is truly reflective of the kind of individual expression we encourage our students to participate in at NYIT
New York, N.Y. (Vocus) March 16, 2010
New York Institute of Technology (NYIT) revealed its new, interactive Web site, which, in addition to providing extensive information tailored to specific users, also integrates technology and encourages student involvement through social media.
The new Web site, which can be seen at http://www.nyit.edu, features a format representative of the contemporary visual brand of NYIT. The site is targeted to the main user groups of NYIT by tailoring information to prospective students, current students, alumni, business and community, faculty and staff, and parents.
All students, faculty, staff, and alumni will have the unique ability to participate in the evolution of the Web site, which will showcase individuals, events, news, and other stories about the global university. The "Get Social" element incorporates social media including profiles, photos, videos, and blogs as well as external social media including official NYIT Facebook, Twitter, and YouTube pages.
"Over the course of the semester, we will integrate tools that will allow members of the NYIT community to upload their own images, blogs, and profiles, as well as the ability to comment and stimulate conversations through our portals," said Jacquelyn Nealon, Ed.D., vice president for enrollment, communications, and marketing at NYIT.
With two campuses in New York, and five global campuses, this transparency will allow members of all campuses to interact with one other without limitation, although it will give users the ability to tag inappropriate information. The portal will give students access to online learning tools, registration, bills, and school announcements. It will also include a feature, akin to a Wall on Facebook, which is already very familiar to students and easily accessible.
"This idea of giving students open access to the Web site is truly reflective of the kind of individual expression we encourage our students to participate in at NYIT," said Nealon.
In order to maintain the Web site, NYIT has implemented a new state-of-the-art content management system, called Expression Engine that will allow greater flexibility in design, management, and organization of content, and the ability for content developers throughout NYIT to make updates regularly. The management system adds to the functionality of the Web site because it ensures that the site will constantly evolve to reflect the university and its community.
The development and launch of the Web site was the result of a large team effort made up of members from the Departments of Information Technology and Infrastructure and Communications and Marketing. For more information about NYIT and its new Web site, visit http://www.nyit.edu.
About NYIT
New York Institute of Technology (NYIT) offers undergraduate, graduate, and professional degrees in more than 90 fields of study, including architecture and interior design; arts and sciences; education; engineering and computing sciences; health professions; management; and osteopathic medicine. A non-profit independent, private institution of higher education, NYIT has more than 15,000 students attending campuses on Long Island and Manhattan, online, and at its global campuses. For more than 50 years, NYIT has been guided by its mission to provide career-oriented professional education, offer access to opportunity to all qualified students, and support applications-oriented research that benefits the larger world. To date, 81,500 students have graduated from NYIT. For more information, visit http://www.nyit.edu.
Contact:
Briana Samuels
Communications Assistant
646.273.6022
###