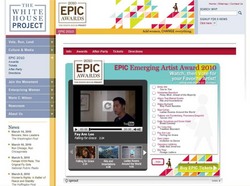 New York, NY (PRWEB) March 16, 2010
The White House Project congratulates the following nominees for selection to compete for the first annual Epic Emerging Artist Award. The online vote begins today through March 31st, and the winner will be revealed and announced on April 7th, 10:00pm, at The Secrets of Powerful Women EPIC 2010 After-Party sponsored by Lifetime Television and hosted by Kerry Washington.
Go to: http://www.thewhitehouseproject.org/epic/emerging_artist to see clips from the nominated works and to vote.
The White House Project believes in Marian Wright Edelman's mantra, "You can't be what you can't see."
Each year at our EPIC Awards, we celebrate those in the visual arts and media who have created powerful representations of women in their work. This year, the EPIC 2010 Emerging Artist Award recognizes some artists who may not yet have the exposure they were meant to. Please RSVP to our EPIC 2010 After-Party for a front-row seat at the announcement of the winner.
White House Project Epic 2010 Emerging Artist Award Nominees:

Emily Abt, "Toe to Toe"
Kimberlee Bassford, "Patsy Mink: Ahead of the Majority"
Alison Teal Blehert Koehn, "Rita and Incantations"
Majka Burhardt, "Way Point Namibia"
Maxi Cohen, "Ladies Rooms Around The World"
Tatiana von Furstenberg/Francesca Gregorini, "Tanner Hall"
Katie Goodman, "Broad Comedy"
So Yong Kim, "Treeless Mountain"
Fay Ann Lee, "Falling For Grace"
Simi Linton, "Invitation to Dance"
Georgina Lighting, "Older Than America"
Ela Their, "Foreign Letters"
###