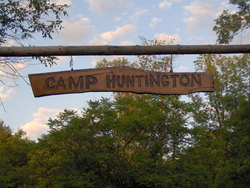 I believe that every human being has a potential
High Falls, NY (PRWEB) March 16, 2010
Merit badges aren't the only things earned at summer camp anymore. Just ask Dr. Bruria Bodek-Falik.
Dr. Bodek-Falik, Executive Director Emeritus of Camp Huntington, a co-ed, residential summer camp for children and young adults with special learning and developmental needs, will be honored this week with the American Camp Association's(ACA) coveted "Legends of Camping Award."
"I believe that every human being has a potential," says Dr. Bodek-Falik. "That potential might be showing or, often, it can be hidden. With this in mind, I designed the program at Camp Huntington to help our campers access their hidden abilities."
Each year, the Legends of Camping Award is given in honor of a recipient's leadership in the profession of summer camping and to recognize a lifetime of achievement, mentoring, sharing and service.
Dr. Bodek-Falik certainly meets these criteria.
Bodek-Falik has been extensively involved in parent education, staff training, program development and workshop instruction throughout her career. She has presided over New York State's Mid-Hudson Psychological Association, served two terms as a board member of the Dutchess County Mental Health Board and the Mental Health Association, and held membership in the Dutchess County Association for the Learning Disabled. She also is a former board member of the New York State Camp Director's Association, and a lifetime member of Hadassah and B'nai Brith.
Born in Fuzesgyarmat, Hungary, Dr. Bodek-Falik's inspiration to work with special populations began as a child when she befriended an individual in her native town who exhibited traits of mental retardation (something that would today be called "intellectual disabilities"). Then, as an adult, Dr. Bodek-Falik taught elementary school and was the director of school psychology for the Poughkeepsie City School District. It was there that Dr. Bodek-Falik designed and implemented a multi-disciplinary kindergarten screening program that became the model for the mandated New York State program still in use today.
Dr. Bodek-Falik joined Camp Huntington as Executive Director in 1982. Located in High Falls, New York and celebrating its 50th year in operation, Camp Huntington serves youth and young adults diagnosed with autism, mental retardation and other developmental or learning disabilities. Camp sessions range from one to six weeks, with campers grouped by age and ability, not solely by diagnosis. Program goals are designed based on creating a safe environment that enables campers to build social and life skills. The young people spend time swimming, playing music, in functional academics and independent living, cooking, singing and acting, filmmaking, sports, gardening and more. They return home more self-sufficient, happy and communicative about their needs.
"It is an honor to supervise such a storied program and all of our incredible campers who I have the pleasure of working with each summer," says current Executive Director and Dr. Bodek-Falik's son, Daniel Falk. "Seeing their truly amazing progress is my most cherished reward."
Dr. Bodek-Falik has a Ph.D. in Clinical Child and Family Psychology and is a licensed New York State Certified School Psychologist, Behavioral Psychotherapist and teacher.
This year's award will be presented to Dr. Bodek-Falik at a dinner held this Thursday, March 18, 2010 at the Sheraton Atlantic City Convention Center Hotel in New Jersey.
Camp Huntington is a program of Aspen Education Group, the nation's leading provider of therapeutic education programs for struggling or underachieving young people. Aspen's services range from short-term intervention programs to residential treatment, and include a variety of therapeutic settings such as boarding schools, outdoor behavioral health programs and special needs summer camps, allowing professionals and families the opportunity to choose the best setting to meet a student's unique academic and emotional needs. Aspen Education Group is a proud member of the National Association of Therapeutic Schools and Programs (NATSAP). Aspen also is a member of CRC Health Group, the nation's largest chemical dependency and related behavioral health organization. For over two decades, CRC Health has been achieving successful outcomes for individuals and families.
###