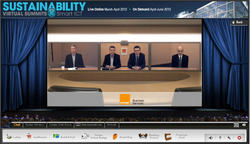 "The Sustainability Virtual Summit (is) the first meeting of its kind, ever." Georg Kell Executive Director UN Global Compact
Steamboat Springs, CO (PRWEB) March 17, 2010
Presented by a prestigious list of ICT leaders, and supported by the United Nations, BSR and Forrester Research, Sustainability Virtual Summits: Smart ICT is the first virtual conference and tradeshow to present the case for a future-oriented ICT industry, to respond quickly to the challenge of sustainability. The event kicks off on March 30th, 2010, and is available globally through April 1st with live broadcasts timed for US, European and Asian timezones, and then for a further 90 days on-demand.
Sustainability Virtual Summits: Smart ICT will summarize the cutting-edge information and best practices that corporations of all sizes need to support themselves through their journey toward building a more sustainable and more efficient enterprise. Attendees to the free-of-charge virtual event will learn about dematerialization - the substitution of high carbon products and activities with low carbon alternative, Collaboration and unified communication (with an emphasis on telepresence), next generation data centers and communication, Smart Grid and the business impact of sustainability on commercial brands.
Notes Georg Kell, Executive Director of the United Nations Global Compact, "The Sustainability Virtual Summit (is) the first meeting of its kind, ever." Rather than just talking about ICT solutions that businesses can employ to reach their sustainability goals, the event employs those technologies itself, from a state-of-the art virtual event software platform, to a unique integration of telepresence technology as a roundtable panel discussion delivery vehicle. ICT Global Leader sponsors Orange Business Services, Alcatel-Lucent, Cisco, Panduit and the Telecommunications Industry Association, along with a host of ICT Smart Leaders, industry and analyst speakers, will address ICT and sustainability in 36 keynote, track and panel sessions throughout the 3 live and 90 on-demand days of the event. In a first for a virtual event, the telepresence enablement of the Sustainability Virtual Summits: Smart ICT event allows roundtable and panel discussions to be broadcast between panelists in remote locations. 35% of the event content has been enabled by telepresence.
To register to attend the Sustainability Virtual Summits: Smart ICT event free-of-charge, http://www.SustainabilityVirtualSummits.com.
# # #