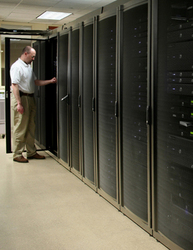 We are finding many providers torn between deciding on having the software vendor
Plainview, NY (Vocus) March 17, 2010
Fastrack Healthcare Systems, Inc. announced today a new incentive for provider's to convert to their Internet based Hosting Solution for HME, Respiratory, Home Infusion Pharmacies and Home Healthcare Agencies.
According to Spencer Kay, President of Fastrack, "We are finding many providers torn between deciding on having the software vendor "Host" the software or running it in-house on their own servers. There are pros and cons to both methods and since Fastrack offers both, we can offer an objective opinion. To help providers in making the decision we introduced our new "Convert to Purchase" program."
The Fastrack Convert to Purchase program allows a provider to start out on the Fastrack Hosted Solution which offers integrated billing, operational & clinical software. At anytime they can bring the system in-house if they find that method meets their needs better. If the client decides to purchase the software license to run on their own server they will receive a substantial discount on the purchase price, in effect receiving partial credit for the monthly hosting fees already paid.
Kay went on to add, "Hosting offers the benefit of a small upfront fee, low monthly payments and Fastrack performing IT functions including; installing upgrades, server maintenance and daily back-ups. On the other hand owning the software license provides more control, ease in interfacing to third party products, potential to take advantage of accelerated depreciation under Section 179 of the IRS Tax Code and should add to the value of the business if the provider decides to sell his/her business."
Fastrack is the leading provider of software & technology to Home Medical Equipment, Durable Medical Equipment, Respiratory Providers, Home Infusion Pharmacies & Home Health Care Agencies. Only Fastrack offers a solution for each individual segment of Home Care as well as one system encompassing virtually every clinical, operational and financial aspect of a provider offering several or all of these product/service lines within one integrated Microsoft SQL database. For further information contact FASTRACK Healthcare Systems, Inc. 255 Executive Drive, Plainview, N.Y. 11803; 1-800-520-2325, fax: 516-349-8875, or e-mail them at: info(at)fastrk(dot)com or visit their Website: http://www.onlyfastrack.com.
###