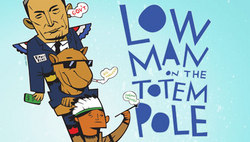 An economic noose is being gradually slipped over Native Americans, who are being led to the gallows, as they have been so many times before. Under the executioner's mask is the Big Tobacco, preparing to pull the lever and release the floor beneath them.
Syosset, NY (PRWEB) March 17, 2010
On March 11, the Senate unanimously approved S.1147—known as the Prevent All Cigarette Trafficking (PACT) Act—which prevents tobacco retailers from sending cigarettes through the US Postal Service. Proponents of PACT have been marketing the bill as an anti-smuggling and anti-terrorism act, but the Press investigation details an ongoing assault on Indian reservation smoke shops by Big Tobacco and the US government.
"What most people see as an attack on the cigarette trade is actually sponsored by the tobacco companies," says Morey. "No one denies that cigarettes are an unfortunate part of our society, but by passing this bill the US government is knowingly aiding Big Tobacco in maintaining dominant market share."
The Long Island Press is an alternative newsweekly based in Syosset, NY. Since it was established in 2003 it has won more than 150 local and national awards. For more information on the Press or to interview Jed Morey about this story, please contact Harlan Friedman at (516) 284-3337 or email hfriedman(at)longislandpress(dot)com.
Link to full story: http://www.longislandpress.com/2010/03/11/the-native-american-cigarette-industry-is-being-crushed/
###