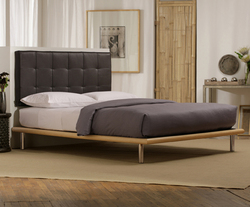 New York (PRWEB) March 16, 2010
Charles P. Rogers is pleased to present their collection of handmade platform beds. Simple yet elegant, these beds balance design innovation with comfortable living. The nature of a platform bed demands precision in both detailing and materials. Charles P. Rogers' craftsmanship is always consistent, and this collection is no exception. Each bed is hand crafted using solid hardwood board from varied choices of wood, including American Cherry, plantation grown Mahogany or sustainable Bamboo. Each material possesses a distinct aesthetic, which appeals to a wide array of design tastes.
All Charles P. Rogers platform beds are designed with padded and upholstered hardwood decks. No Slats or openings are underneath the mattress. Specially designed platform mattresses are also manufactured by Charles P. Rogers. http://www.charlesprogers.com/mattresses-tables-benches-mattresses-c-4_194.html A mattress taken from a set of bedding with a box spring will most likely not perform as well as one of these custom mattresses and is not recommended for long last wear nor good back support on a platform bed.
BAMBOO BEDS:
The Charles P Rogers Bamboo Platform Beds are composed of genuine bamboo that has been skillfully shaped and joined into a clean continuous form. The Mies http://www.charlesprogers.com/mies-bed-white-leather-headboard-p-390.html?cPath=7_116 and Parsons Bamboo beds http://www.charlesprogers.com/parsons-bed-dark-chocolate-headboard-p-505.html?cPath=7_222 offer flexibility to consumers as either can be set alone or paired with the modern Poole leather or ultra-suede headboard for a more finished look.
Ecologically friendly, bamboo has quickly become a very popular material in home furnishings and furniture due to its uniquely exotic features and the fact that it is a responsibly harvested resource. A seventy-foot bamboo plant can be harvested after 5 years and replaced in less than three months limiting the impact on our environment. Ecologists promote bamboo as a logical renewable source that also restores soil, prevents erosion and produces 30 percent more oxygen than a hardwood forest of comparable size.
MAHOGONY PLATFORMS:
Renowned craftsman have been using mahogany since the 18th century for its excellent workability and aesthetic. As one of the hardest types of woods, it is certain to stand any test of durability. Its beautiful reddish-brown tint darkens over time and emits a magnificent sheen once polished. It is no wonder mahogany furniture has a reputation of lasting for centuries and becoming timeless family heirlooms, just like a Charles P. Rogers platform bed.
The finish of the Barcelona http://www.charlesprogers.com/barcelona-platform-bed-tiger-mahogany-p-329.html?cPath=7_105 and Sleigh Platform beds demonstrate mahogany's versatility in style. The Barcelona Platform Bed captures the dramatic angles and distinct form of late 20th century design while the Sleigh Platform rejuvenates the classic French Lit Bateau aesthetic with a modern interpretation. These familiar designs comfort, while their modern updates add a unique, designer touch consumers seek.
AMERICAN CHERRY PLATFORMS
An American classic, cherry from the hardwood forests of the U.S. offers excellent strength, color and ease of working as well as beautiful finishing properties. It is considered a superior wood for use in cabinetry and fine furniture, and has been a home design staple for generations.
Charles P. Rogers offers an assortment of platform beds in American Cherry each resulting a contemporary, clean feel. The Alden Platform Bed http://www.charlesprogers.com/alden-platform-bed-p-265.html?cPath=7_119 features a unique, fully integrated solid wood deck and a plank headboard with a simple yet elegant waterfall design. The Cherry Platform Bed includes a sleek cherry wood platform and headboard with an exposed steel frame for a truly modernist feel. The Mies Platform Bed incorporates a skillfully shaped cherry wood platform in a clean, continuous form with contrasting stainless steel legs for an overall timeless design.
Whether you are Brad Pitt using bamboo to build homes in New Orleans or Jamie Foxx designing clothing, bamboo is one nature's most versatile materials, and Charles P. Rogers is proud to continue the tradition of innovation through what they do best…beds.
Charles P. Rogers has been known as a tradition of quality and excellence since 1855. This reputation has followed them for over a hundred and fifty years as they have grown to be recognized as one of the countries top bed makers. This level of distinction can be seen through their many different designs featured in their, brass, leather, iron and wood beds. Charles P. Rogers beds are shipped direct all over the world and are helping consumers sleep well one night at a time. To purchase or for additional information, please visit http://www.charlesprogers.com.
###