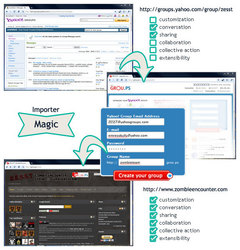 Yahoo Groups has been an amazing tool for online communities to communicate. But in the era of social networking, online communities ask for more... They want Facebook integration, customization, self-expression, profiles, sharing, collaboration and colle
Palo Alto, CA (PRWEB) March 19, 2010
Leading social groupware platform and do-it-yourself social networking provider, GROU.PS, today unveiled http://grou.ps/yahoogroups.php - a synchronization tool that allows the group administrators on Yahoo Groups to boost their email lists via social networking features such as profiles, friendship, avatars, chat, location based services and collaboration.
"Yahoo Groups has been an amazing tool for online communities to communicate. But in the era of social networking, online communities ask for more... They want Facebook integration, customization, self-expression, profiles, sharing, collaboration and collective action features. Our platform has been giving them what they need right away as a unified experience and now we expand that into the Yahoo Groups territories" said Emre Sokullu, the founder and chief executive officer of the Palo Alto based company.
The new transformer doesn't require the Yahoo Group owners to shut down their existing group. They can still continue using their email list, the conversations are archived in the Forum module of the new GROU.PS group that they have transitioned into. Their new GROU.PS group surrounds their old Yahoo Group list and enriches it with a live social graph and extra functionality via core GROU.PS modules like Videos, Blogs, Wiki, Funds and so on. The transition can be made from the http://grou.ps/yahoogroups.php address in less than 5 minutes.
GROU.PS' idea of augmenting email lists via social networking can be compared to Xobni's idea of augmenting email via social networking. But instead of displaying social networking profiles of one's email contacts, GROU.PS creates a whole new social network tailored particularly to that specific list, and augments its functionality with typical social networking features that can be found on any GROU.PS group.
Yahoo Groups transformer is not the only initiative of GROU.PS that lets them to fetch communities from different platforms. PHPBB importer (http://grou.ps/phpbb.php) is another utility that was launched to augment the forums that are created with the open source PHPBB software.
According to Alexa, GROU.PS is today one of the world's top 6000 web properties. The site pushes 1PB of data each month, has more than 2.5 million registered members and 5m monthly uv. The site grows with a monthly rate of 10% - which raises the expectations for the traffic to quadruple in less than a year.
About GROU.PS
GROU.PS is a leading social groupware platform that allows anyone to instantly create a social network instantly for free. Group administrators can customize their site with their own template and colors, and choose from tens of modules such as videos, photos, chat, music, subgroups, calendar, blogs, and wiki.
The company is privately held and headquartered in Palo Alto, CA with development offices in Istanbul, Turkey. GROU.PS was founded in early 2006 by Emre Sokullu. The site has more than 2.5 million registered members. The company is backed by Golden Horn Ventures. For more information, visit http://grou.ps.
###