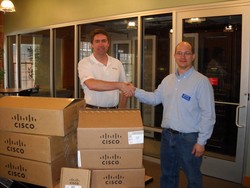 Claremont, NH (PRWEB) March 16, 2010
The project is one of many initiatives that comprise Red River's comprehensive approach to talent development. They created the Red River Technology Foundation prior to relocating their corporate headquarters to Claremont to promote technology education and experience among area students. The Foundation awards high school aged students with scholarships in the form of money and/or IT equipment for furthering their pursuit of secondary education in technology. Red River feels that strong partnerships between businesses and education are critical in preparing students to compete in the ever-changing and exciting world of technology.
Steven Budd, President of River Valley says, "I think it's imperative that colleges like River Valley provide instruction using the same equipment and technology that students will encounter in the workplace. This will ensure that students are job ready from day one. Employers should expect that of us. Only through the generosity of corporate partners like Red River, will our students remain ahead of the curve in such rapidly changing industries as information technology. While we are grateful for the gift of equipment, Red River has given much more by sharing the time and expertise of their employees. The quality of our recently redesigned computer science curriculum is largely the result of their presence. I cannot thank them enough."
Dr. Peter Joyce, Global Lead for Partner Talent Development at Cisco Systems, Inc. adds, "In this economy, it is all about jobs. Our industry is growing. However, maintaining the magnitude of this growth will depend on investments in people. Cisco applauds Red River for its business leadership and its investment in our future talent. The partnership between Red River and River Valley Community College is an exceptional example for businesses across all industries. Cisco is proud to be a member of this joint initiative."
"As soon as we decided to move our corporate headquarters to Claremont we set out to build a comprehensive approach to talent development that would benefit the community and prepare a workforce for our company," said Rick Bolduc, Red River Owner and CEO. "We understand that a community is only as strong as its members and pro-active participation is the critical component to a strong and vibrant society. We are encouraged by our strong partnership with River Valley and look forward to making a real difference in the lives of students year after year."
Red River's annual charity golf tournament contributes to the funding of their Technology Foundation and has risen over $65,000 in the past three years. The company is proud and committed to helping the community as a responsible corporate citizen and welcomes your interest and participation in its efforts. To learn more about the Red River Technology Foundation or the golf tournament, visit http://www.redriver.com/foundation.
About Red River:
Red River provides technical solutions to business problems for the federal government, state and local governments, higher education and the health care marketplace. Using a consultative approach Red River achieves an understanding of our client's business challenges and takes responsibility as the single point of contact in integrating multi-vendor solutions that provide innovative and practical results. For more information please call 800-769-3060 or visit http://www.redriver.com.
###