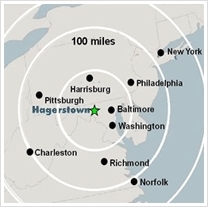 Dr. Morgan's selection as National Superintendent of the Year reinforces the undisputed quality of Washington County and Hagerstown, Maryland as locations for business.
Hagerstown, MD (PRWEB) March 24, 2010
In yet another acknowledgment that Washington County, Maryland schools are among the best in the nation, Dr. Elizabeth M. Morgan, Superintendent of Washington County Public Schools (WCPS), has been named 2010 National Superintendent of the Year by the American Association of School Administrators (AASA).
The announcement was made this month at the National Conference on Education in Phoenix, Arizona, and further strengthens Washington County and Hagerstown, Maryland as one of the best locations for business in the nation.
Dr. Morgan was selected from four finalists named in December. She was previously named Maryland Superintendent of the Year in October. The National Superintendent of the Year program, co-sponsored by ARAMARK Education, ING, and AASA, and now in its 23rd year, celebrates the contributions and leadership of public school superintendents.
The Nation's Best Schools in the Top-Ranked Education System
Under Dr. Morgan's leadership, WCPS has managed nine years of consistent enrollment growth while continuing to increase student test scores in many areas, at the same time actively increasing academic rigor by adding an International Baccalaureate program, numerous magnet opportunities and additional honors and Advanced Placement courses. Other WCPS highlights include:

According to U.S. News and World Report 2010 National Rankings, four of the Nation's Best High Schools are in Washington County
The four WCPS high schools are among only fifteen medal winners in Maryland, a state with an education system that ranked number one in the country.
WCPS ranks among the top four public school systems in Maryland.
In 2009, WCPS posted the all-time lowest dropout rate (1.53%) and all-time highest graduation rate (91.53%) in the school system's history.
WCPS has achieved Adequate Yearly Progress (AYP) standards at every school in the system.
Top-Ranked Schools for a Highly-Educated Workforce and a Thriving Economy
Dr. Morgan's selection as National Superintendent of the Year reinforces the undisputed quality of Washington County and Hagerstown, Maryland as locations for business. As information technology continues to become the driving force behind every industry—and the nation's economy—so does the need for a highly-educated workforce—and Washington County schools are meeting that need.
Quality of life is a significant factor for employers looking to expand or relocate their companies, and having some of the best schools in the nation is highly attractive to employees and their families. And the presence of such well-educated workers results in higher-paid jobs and a thriving local economy.
The Crossroads of Commerce: Hagerstown and Washington County, MD
An Ideal Business Location...
Located at the Crossroads of Interstate 81 (accessing the nation from north to south) and Interstate 70 (connecting the nation from points east to west) Hagerstown and Washington County, Maryland are the "Crossroads of Commerce." Less than 30 minutes from well-known national biodefense resource Fort Detrick in Frederick, MD, and within an hour's drive of both Washington,DC and Baltimore,MD, Washington County is an affordable place to do business with close proximity to major metropolitan areas.
Pro-Business Climate...
Washington County is known for a healthy, pro-business climate. With incentives and financing programs from a variety of sources, businesses get significant assistance to open, expand or relocate in the area. Company goals are achieved by working with partners and developing custom programs to maximize benefits for each business.
Beyond financial assistance, expert liaisons are employed to help ensure a smooth expansion and logistical process through the County's "Fast Track Program."
###