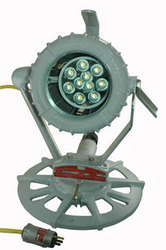 Kemp, TX (Vocus) March 17, 2010
Larson Electronics' magnalight.com announced the addition of the EPL-PM-1X30LED-100 explosion proof LED light. Equipped with a handle, pedestal mount, 100 foot cord and explosion proof plug, the EPL-PM-1X30LED-100 is ideal for cleaning tanks and vessels in hazardous location areas. The primary difference between the LED model and standard incandescent model is the 30 watt Par 38 LED light bulb that delivers 5400 lumens and draws just a tenth of the electric power of the 300 watt incandescent version. There are three main benefits to the explosion proof LED version of this light, including less heat, brighter, whiter light and 50,000 hour bulb life. The EPL-PM-1X30LED-100 is available for 120 volts and 220 volts. The EPL-PM-1X30LED-ILS-100 is available with an inline transformer for 12 and 24 volt applications.
"The 300 watt incandescent version of this pedestal mount explosion proof light has an operating temperature of 190 degrees Fahrenheit while the LED version of this same fixture operates at 55 degrees Fahrenheit," said Rob Bresnahan with Larson Electronic' magnalight.com. "For operators who have to continuously move the light and are in small confined spaces, that heat can be a nuisance. In head to head comparisons, the LED explosion proof light delivers more illumination over more area, without the distinct yellow tint common to the par incandescent bulbs. Finally, the solid state bulb won't break when the light is knocked over and are rated at 50,000 life hours, which means they can run non-stop for 5.5 years. This all translates into more productivity for operators cleaning or blasting tanks and vessels," Rob concluded.
The portable LED explosion proof light is a new addition to a growing range of explosion proof LED lights available from Larson Electronics. The surface mount, linear LED lights, LED flashlights, LED strobe lights and now portable LED lights for hazardous location areas include choices for Class 1 Division 1 and Class 2 Division 1 ratings. Please visit Larson Electronics for more information at magnalight.com or contact 1-800-369-6671 (1-903-498-3363 international).
###