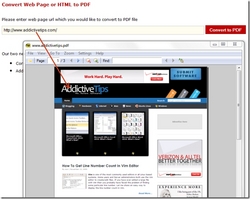 For the first time I found simple, fast and nice web based service to convert my visited web pages to PDF without installing any software to my PC.
(PRWEB) March 17, 2010
Bloggers, website publishers and all Internet users can now enjoy free service of Web2PDF Converter, as web content is much more convenient to share, print, archive and read offline when converted to PDF format. The resultant PDF files can be also read with PDF-supporting e-book readers. Web2PDF Converter is a perfect variant for those who do not have PDF creating software, but can be used by anyone due to the speed and easiness of use. No fee is charged, no installation is required.
It should be noted that Web2PDF Converter also supports conversion via e-mail, which is highly appreciated by users not having free access to the Internet, except for their electronic mail. Here the procedure is not any more difficult: the URL is sent to submit@web2pdfconvert.com , and the reply with an attached PDF is sent back at once!
Besides, the "Convert to PDF" button can be added to any site or blog for the visitors to save it as PDF in one click. The JavaScript code is provided here http://www.web2pdfconvert.com/pdf-button.aspx
Features: Easy and quick conversion of web pages to PDF. No software installation. Direct conversion from most popular browsers (add-ons for Internet Explorer, Firefox, Google Chrome, Opera, Safari). "Convert to PDF" button code for any site or blog. Conversion via e-mail.
For more information, visit http://www.web2pdfconvert.com
###