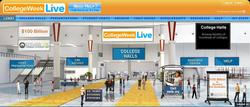 Boston, MA (PRWEB) March 18, 2010
-you can Sign-Up online at any time. More than 200 colleges and 40,000 students are expected online at this Spring's event March 24-25, so plan your visit before you go. Here are a few tips to help you make the most of it:
Mark Your Calendar
If you snooze, you lose. CollegeWeekLive is scheduled for Wednesday March 24th and Thursday March 25th between 10:00 AM and 10:00 PM EST. Block your calendar ahead of time so you have enough time to attend and see the schools and conference sessions of most interest.
Register in Advance
Sign-Up in advance to save time day of event and receive useful updates regarding new schools exhibiting, speaker sessions and topics added, or new scholarships available only to attendees.
Target Schools of Interest
View the list of schools exhibiting ahead of time and plan your booth visits accordingly. Colleges participating range from Ivy league institutions to large state schools to respected private institutions and regional community colleges. Virtual booths for the schools are manned by admission representatives, who are ready to answer your questions or help you through the application process online at the event.
Attend Presentations for Admissions Tips
There will be live conference tracks, with top experts offering tips on topics such as "how to craft a compelling application essay" or "how to pay for a college education in today's economy". Presenters will field and answer questions live via chat from the audience. This is a great opportunity to find information that is most relevant to you. Review the agenda in advance.
Hear it from a Peer
No one knows better what college life is really like than today's college students. More than fifty student video chats are offered, so find a few to attend starring students at the schools that interest you most. Eye-opening in more ways than one.
Follow Up After the Event
Many of the schools continue to man their booths after the event is over, providing an easy way for you to access college admissions counselors if you have questions after the fact. Many hours of content are archived and accessible for free up to sixty days after the event, so if you miss a session of interest, you can go back and watch and take notes.
Students or parents interested in attending CollegeWeekLive SPRING should visit CollegeWeekLive.com to register for free.
About CollegeWeekLive:
CollegeWeekLive (http://www.CollegeWeekLive.com) is the provider of the world's largest college fairs and online admissions events. With hundreds of colleges and universities exhibiting and more than 200,000 registrants, CollegeWeekLive revolutionizes college admissions, making the process easier and more cost-effective by bringing students, parents, counselors and colleges together online, transcending time and distance. CollegeWeekLive is free for students, parents and counselors.
CollegeWeekLive is produced by PlatformQ, whose mission is to connect people, companies, organizations and associations worldwide to meet, interact and learn from leading experts and thought leaders through proven interactive tools at online events.
CollegeWeekLive and PlatformQ are trademarks of PlatformQ, LLC. All other trademarks or service marks are property of their respective owners.
###