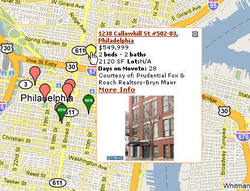 Redwood City, CA (PRWEB) March 17, 2010
Movoto Real Estate announced today that its innovative home search website will now be available across the Philadelphia metro area. Given the current state of the real estate market, Movoto.com provides homebuyers with the reassurance they need to make a confident and informed purchase.
Movoto.com simplifies the process of purchasing a home for seasoned and first-time homebuyers by offering access to multiple listing service (MLS) homes for sale, and by providing detailed information for each home including recent price drops or increases, days on the market and more. Movoto.com also provides users with statistics on local schools state test scores, student-to-teacher ratios, neighborhood demographics, FBI crime statistics customized by zip code, and an overview of the current local real estate market as a whole.
Purchasing a home is one of the largest financial decisions a person has to make in their life, which is why Movoto.com ensures that users who are interested in buying a home listed on the Movoto website have access to only the best real estate agents in their area to assist with the transaction. Real estate agents are invited to join the company's network only after passing a rigorous screening process that ensures that each agent is a respected local real estate expert and can meet the needs of real estate buyers in today's complicated market environment.
The services of Movoto.com are offered free of charge to consumers. There is no obligation to buy a home with an agent who partners with the service. For more information and to start looking for your new home today, visit http://www.movoto.com.
About Movoto
Founded in 2005, Redwood-City-based Movoto is led by an experienced team of real estate industry veterans and internet technology experts with a shared vision of empowering real estate consumers. Movoto provides a unique online home buying solution that combines innovative, easy-to-use research tools with ready access to a network of experienced local real estate agents. Movoto's expanded service adds homes for sale in the Philadelphia metro area to Movoto's current coverage of homes for sale in Arizona; Putnam, Brooklyn, Queens, Nassau and Suffolk Counties in the New York metro area; California; Colorado; Delaware; Georgia; Illinois; Massachusetts; Maryland; New Jersey; North Carolina; Oregon; Virginia; Washington DC; Dallas-Fort Worth, Texas, San Antonio, Texas, Houston, Texas; Tennessee; and the Orlando, Miami, Jacksonville and Tampa/St. Petersburg and Daytona Beach metro areas of Florida.
###