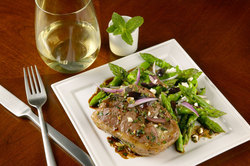 Surveys show that consumers are wild about the succulent green spears -- asparagus are consistently named America's favorite side dish in food buyer surveys - and we have now expanded our website www.calasparagus.com with a number of new offerings, information and recipes
Stockton, Ca (Vocus) March 17, 2010
Spring in California means plump new spears of just-picked asparagus paired with richly-flavored fresh California lamb. Fresh California Asparagus is in peak season right now with markets stocking plenty of the succulent, crisp green spears along with tender American lamb, two perennial consumer favorites.
California leads the nation in asparagus production with more than 50,000 tons harvested annually. The fertile Delta region and the irrigated San Joaquin Valley provide the best growing conditions for asparagus. The moderate climate and fertile soil help create the outstanding quality of asparagus grown in California.
The mild climate also is the key to California's fork-tender savory lamb. Tenderness, taste, and leanness can be attributed to good year-round growing conditions, brought about by California's superb weather. Here, we produce excellent-quality lamb with a reputation for taste second to none, and many different markets vie to purchase lamb from California's spectacular pastures and ranges.
Lamb and Asparagus salad is a fresh way to fuse the flavors of these two California spring superstars into one delicious main course dish. Celebrate the arrival of spring with the perfect fresh seasonal meal of thick juicy lamb chops combined with bright green succulent asparagus spears infused with tangy Mediterranean-inspired flavors.
"Surveys show that consumers are wild about the succulent green spears -- asparagus are consistently named America's favorite side dish in food buyer surveys - and we have now expanded our website http://www.calasparagus.com with a number of new offerings, information and recipes," stated Cherie Watte Angulo, Executive Director, California Asparagus Commission. Images are available at California Asparagus Photo Gallery http://www.calaspphoto.com.
Fresh, high-quality American lamb is available year round, but sales more than double in spring as families around the country gather for Easter, Passover and other seasonal feasts. "A culinary bridge across cultures, lamb is a common staple of spring cooking, dates back to ancient times and is rooted in a number of religious and family traditions," stated Megan Wortman, executive director, American Lamb Board. For more information, http://www.americanlambboard.org.
Please join us at the 25th Annual Stockton Asparagus Festival April 23-24, for more information please visit, http://www.asparagusfest.com.
Media Contact: Patricia Schneider
Phone: (435) 717-7595
Fax: (435) 417-7595
Email: patricia9(at)comcast(dot)net
###