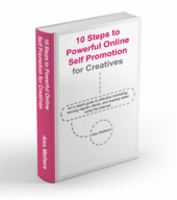 Alex has mastered the methods for effective self promotion in the creative world.
(PRWEB) March 16, 2010
Alex Mathers of RedLemonClub.com, a site dedicated to helping creative professionals effectively promote themselves and their work, has launched a new ebook focused on online self promotion.
The book '10 Steps to Powerful Online Self Promotion' is an in depth guide to effective marketing, winning regular clients, and making sales using the internet. The book is specifically aimed at creative professionals, but can be used by anyone looking to powerfully promote themselves, their sites and their products online.
'10 Steps' explains in detail the importance of building up a group of contacts, including in the form of a functioning mailing list, and how to build and maintain one in the best possible way.
The book reveals methods of bringing targeted traffic to your work and how to effectively set up with and develop substantial, relevant social networks that you can engage with.
As well as revealing several low cost and free advertising methods and other alternative methods to promote yourself and your work online, the book shows how to maintain everything you have done so that this level of promotion is prolonged. The book closes with a massive, multi-page resource bank, full of links to relevant sites for creatives, that all tie in with the methods discussed within the ten steps.
An overview of what is included in this book:
How to establish a unique selling point, and become an outstanding, credible brand.
How to build, promote and maintain the perfect online presence.
How to set up, maintain and promote a niche blog.
Setting up an effective mailing list.
Setting up properly on various social media sites.
Building large and relevant networks on social networking sites.
Driving traffic to your sites in over 18 ways.
Directly advertising your work for little or no money.
Making use of online creative communities for promotion.
Ideas on collaboration and joint ventures.
Huge resource list aimed specifically at creative professionals.
Maintenance.
Much more.
Some early reviews:
"Alex Mathers has mastered the methods for effective self promotion in the creative world."
Scott Belsky, Founder of Behance, The 99%
"Mathers' book is all you'll ever need to become an expert yourself. I've never encountered a more valuable or thorough guide to promotion."
Jerelle Kraus, Former New York Times Art Director
"Most marketing books say the same thing as everyone else, so it was a happy surprise to find out that the book did not have the usual marketing tips. I literally couldn't put the book down!"
Amber Weinberg, Established Blogger and Web Developer
For more information on the ebook and to sign up the Red Lemon Club weekly tip, go to http://www.redlemonclub.com/ebook.
Conclusion
Alex Mathers, the writer behind self promotion for creatives site: Red Lemon Club, has launched a new ebook to enable creative professionals to more effectively market themselves using online means. Please go to http://www.redlemonclub.com/ebook for more information.
About Red Lemon Club
Red Lemon Club is a site dedicated to helping freelancers and independent people looking to gain a foothold in promoting themselves on the Internet.
###