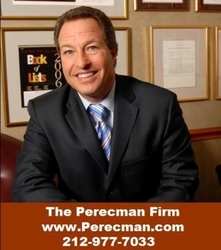 New York, NY (PRWEB) March 17, 2010
According to a recent story in the New York Times, some of the nation's top orthopedic surgeons have reduced or even eliminated the use of metal on metal artificial hips. New York personal injury attorney David Perecman comments about recent reports that metal on metal hip implants could be causing severe tissue and bone damage and the Supreme Court has closed of access to the courts for victims.
"This is extremely alarming due to the fact that many people have to go under the knife again within two years of having metal on metal hip implants," said New York personal injury attorney David Perecman. "When you have doctors at the finest hospitals in the United States recommending patients not to undergo this hip implant surgery, and the elevated risks of metal on metal implants, more studies need to be done before allowing this procedure to move forward."
The New York Times article states how Zimmer Holdings, one of the largest producers of the metal on metal joints, published a report that "suggests that ion release levels from Zimmer's metal-on-metal hip systems are commensurate with other metal-on-metal systems in the industry, and are not associated with significant risk to patients."
Most distressing, however, is that the Supreme Court of the United States, having been filled with republican and conservative appointees, most recently by President Bush, recently ruled that the victims will have no access to the courts because the dysfunctional FDA approved the devices.
About David Perecman and The Perecman Firm, PLLC:
For the past 30 years, the New York personal injury attorneys, auto accident, construction accident, and medical malpractice attorneys at The Perecman Firm, PLLC have championed all types of cases for personal injury accidents. David Perecman, founder of the Firm, is a Board Director and the past Secretary and Treasurer of the New York State Trial Lawyers Association (NYSTLA) and a chair of its Labor Law Committee. Mr. Perecman's achievements have brought him recognition as an Honoree in the National Law Journal's Hall of Fame, in New York Magazine's "The Best Lawyers in America" and The New York Times Magazine "New York Super Lawyers, Metro Edition" for the years 2007-2010.
The Firm has recovered millions of dollars for its clients. Among the more recent victories, Mr. Perecman won a $15 million verdict* for a construction accident, a $5.35 million dollar verdict** for an automobile accident, and a $40 million dollar structured settlement for medical malpractice.
*later settled while on appeal for $7.940 million
** later settled for $3.5 million
"Lawyer Advertising"
"Prior results do not guarantee a similar outcome."
###