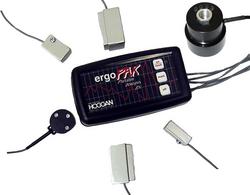 Salt Lake City, UT (PRWEB) March 18, 2010
HOGGAN Ergo today announced the launch of new data acquisition software and a new sensor, the 3-Axis Vibration Sensor, for the ErgoPAK Portable Analysis Kit. Designed as a complete toolkit for ergonomists and engineers, the ErgoPak provides the ability to test multiple factors simultaneously and collect field data under real world job conditions. These new additions will be debuted at the 2010 Applied Ergonomics Conference in San Antonio, Texas March 22 – March 25, 2010 where the ErgoPak will also be featured in an Ergo Cup Entry.
The new Version 2.0 Software will enable users to view real-time data feedback onscreen and to analyze test results during testing procedures. Analysis generated through the testing process will be able to be submitted to stakeholders efficiently and in an easy-to-understand format. By designing and introducing the 3-Axis Vibration Sensor, users of the ErgoPAK will have the ability to test vibration with accuracy. This sensor is ideal for measuring vibration from power tools, machinery and products. Captured and saved tests can provide information that can help identify potential hazards to exposure of the human body to vibration.
"The introduction of the latest version of software and the 3-Axis Vibration Sensor is a testament to HOGGAN Ergo's ongoing commitment to innovation in the ergonomics market, said Ryan Dean Hoggan, Director of HOGGAN Ergo, "each of these innovations was driven by market demand from countless existing users of the ErgoPak toolkit."
HOGGAN Ergo is offering its current users of the ErgoPAK a free software upgrade by contacting their representative or by emailing contact (at) hogganhealth (dot) com. The new 3-Axis Vibration Sensor will be available for sale to existing and new customers beginning March 21, 2010. For more information regarding these products, please visit hogganergo.com or call 801-572-6500.
About HOGGAN Ergo:
For over a decade, HOGGAN Ergo has designed and provided accurate and durable testing equipment designed for industrial testing applications. After the success of the original ergoFET push/pull digital force gauge, HOGGAN Ergo expanded its ergonomic line to include ergoPAK Portable Analysis Kit and Force Sensing Resistors (FSR's) many tools for the ergonomic user. Each product in the HOGGAN Ergo line was designed with ergonomic specialists in mind to maximize versatility and durability in the very environments where HOGGAN Ergo products are most needed. HOGGAN Ergo strives to lead the way with innovation, design and manufacturing expertise. More information can be found at http://www.hogganergo.com
About Applied Ergonomics Conference:
The Applied Ergonomics Conference (AEC), held this year March 22nd through March 25th 2010 in San Antonio, TX, is one of the largest and most impressive ergonomics conferences in North America. Presenters are practitioners sharing real-world experiences and practical solutions to common problems in industry. This conference provides comprehensive and broad-spectrum education for employees at all levels (managers to professionals to line workers) and is a great opportunity for ergonomics students to network with industry leaders. More information can be found at http://www.iienet.org
###