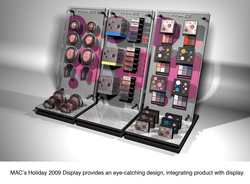 Many forward-thinking companies have reprioritized the way they sell, funneling more marketing dollars into custom POP display
Carlstadt, N.J. (PRWEB) March 17, 2010
In today's environment of diminishing consumer dollars and the increasing clout of retail giants, product managers and their respective marketing teams are reassessing the needs of retailers and consumers—as well as their own when it comes to in store marketing.
"More than ever, the way to entice the customer is at the point of sale," says Andrew Freedman, CEO of Design Display Group, an innovator in merchandising design and display branding and a leading manufacturer of displays and fixtures. "Many forward-thinking companies have reprioritized the way they sell, funneling more marketing dollars into custom POP display"
For this reason, the design and quality of in store marketing must perfectly reflect the brand identity. This is where decisive engineering and outstanding service enable great design.
"Recently, MAC Cosmetics created a display idea that incorporated abstract artwork with unique colors that proved challenging to color-match, and they also sought a totally new texture for the display material," Freedman explains. "It took nine iterations to reproduce the color correctly and a special vacuum forming process to create the texture, but it was worth it because image is everything in the beauty industry. That image transcends to how the consumer feels about herself when she buys the product."
In store marketing has gained even more importance in the eyes of the retailer since the ranks of sales personnel have been reduced through economy-driven lay-offs. The custom POP display, alone, must often sell the product. Yet, retailer-driven demands have only increased with the emergence of "store as brand." Having to integrate the display into the overall store design makes it tougher for manufactures to differentiate their products at the point of purchase.
"The retail environment is key," Freedman says. "Stores have their own identity—the product display at a major department store will look very different from the display for the same product sold at a warehouse club. But there still has to be some synergy between the two so the brand can 'live' and be easily recognized by the consumer in either venue."
The third and most important viewpoint is the consumer. Discerning shoppers are now pre-planning purchases and looking to the display to tie in with product advertising and brand loyalty programs.
"In store marketing can make or break the consumer's perception of the brand experience," stresses Freedman. "A successful custom point of purchase display will telegraph to the shopper that the product and the display are integrated, reflecting the quality of the product and the cohesiveness of the advertising message."
"By considering the new realities of retailer and consumer demands, product manufacturers can develop display ideas specify displays that increase sales despite challenging times," Freedman says. "As a custom point of purchase display designer and manufacturer, we must take this complicated retail world and simplify it, although it may not appear that way to our ultimate customer, the consumer.
Subconsciously, the custom POP display attracts the consumer, with a strong message, 'Buy me.'" But in the end, the consumer will get home and say, 'Look at this cool thing I found.' Isn't that the goal?"
###