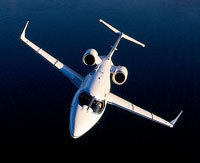 Our focus on building our fleet around the Bombardier line of private jets is strategic and not by chance.
Columbus, OH (PRWEB) March 18, 2010
The two jets will be based on opposite coasts of the United States with one of the Learjet 60's in Van Nuys, California serving the Southern California private jet charter market while the other will be based in Boca Raton, Florida serving the South Florida private jet charter market. The Boca Raton jet adds the third mid-size cabin jet to JetSelect's South Florida fleet and is available for private charter immediately. The Van Nuys mid-cabin jet is complementary to JetSelect's large-cabin Bombardier Challenger 601, also based in Van Nuys, and is scheduled to be in operation by the end of March 2010. The additions bring JetSelect Aviation's Learjet 60 fleet to 9 making them one of the world's largest private fleet operators of this popular mid-size cabin Bombardier jets.
Robert Austin, CEO of JetSelect Aviation said "Our focus on building our fleet around the Bombardier line of private jets is strategic and not by chance. We have learned that the efficiencies we gain from our aggregate fleet experience in both flight and maintenance operations provides us with knowledge that translate directly to safety, efficiency, and cost savings to both our private jet charter customers and the owners of the aircraft we manage."
Jeremy Bogle, VP Business Development for JetSelect Aviation said "We are very excited to have the opportunity to add to our fleet in support of these two critical private jet charter markets. As we see a modest resurgence in activity from buyers of private charter services, these aircraft offer JetSelect Aviation much needed support for our client base."
JetSelect, LLC d.b.a. JetSelect Aviation is a premium aviation services provider offering On-Demand, Aircraft Management, and Aircraft Maintenance to both businesses and individuals. JSA focuses on safety, service, and efficiency; in that order. JetSelect's operations are conducted under Title 14 CFR Part 135, FAA approved certificate #U5QA550L. JSA bases jet aircraft at strategic locations across the country in order to provide immediate personalized charter service from most major cities to anywhere in the world. Learn more about them at http://www.jetselectaviation.com.
###