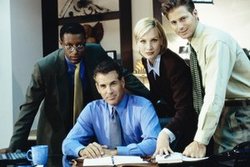 Local Mother Injured in Head On Collision is Represented by The Hoffmann Law Firm, L.L.C.
Saint Louis, MO (PRWEB) March 19, 2010
The Hoffmann Law Firm, L.L.C. files lawsuit for local mother severely injured in head on collision. Her vehicle was headed northbound and struck after the oncoming vehicle crossed the center line. (Circuit Court of the City of Saint Louis, State of Missouri, Cause Number: 0822-CC000617).
Each driver alleged the other came into their lane of traffic. Accident reconstruction experts revealed a pitting mark in the northbound lane. Upon examining the vehicles, experts alleged the front drivers side tire of the southbound vehicle was blown out, exhibited evidence of pitting in the rim, and had chunks of asphault still present. The accident reconstructionist alleged the southbound vehicle crossed the center line into oncoming traffic and hit head on with the northbound vehicle causing the tire to blow and the rim to gouge or pitt into the aspault.
About The Hoffmann Law Firm, L.L.C.:
The Hoffmann Law Firm, L.L.C. specializes in Accident, Injury, Car Accidents, Wrongful Death, Insurance Denial, Uninsured and Underinsured Motorist Claims, and Workers Compensation. Their 24 Hour Call Center has an attorney ready to answer all calls. (314) 361-4242. Licensed in Missouri & Illinois.
A serious injury or family member death must take three things into consideration when looking for an attorney: Credentials, Experience and Expertise. The Hoffmann Law Firm, L.L.C. has attorneys who have earned their credentials through successful negotiations and vigorous courtroom representation. With over a decade of experience and thousands of car, truck and motorcycle accident cases to their credit, The Hoffmann Law Firm, L.L.C. has focused their practice exclusively on injury claims. Their sole focus is helping victims of accidents receive much-needed financial compensation. The Hoffmann Law Firm handles the most complicated cases.
###