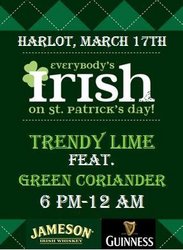 San Francisco, CA (Vocus) March 17, 2010
St. Patrick's Day is just around the corner – another occasion to party in style and have some laughs with friends, new and old. On March 17th, Trendy Lime will be turning the night "green" at Harlot, in San Francisco, in honor of Ireland's most recognized holiday.
In keeping with its legacy of style and creativity, Trendy Lime will feature artistic entertainment and will be bringing the most international and glamorous crowd of San Francisco for mingling, sipping and dancing. Undoubtedly, Irish music will be played, tasty beer will be served and mischievous leprechauns will be onsite. Partiers will be able to enjoy specially priced drinks, courtesy of Jameson and Guinness.
While the color green is central to the Irish festivity, it also represents eco-living. There are tons of ways to be green on St. Patrick's Day, beyond wearing a colorful shirt or necktie! Along with celebrating this cheerful day, Trendy Lime will be proactively promoting environmentally friendly products and organizations.
As such, Green Coriander will be offering samples of healthy organic Indian food. Green Coriander, http://www.greencoriander.com/ provides nutritionally balanced, healthy Indian meals in San Francisco keeping health, hygiene and the environment in mind. This startup is committed to using organic and sustainably-produced ingredients in their dishes as far as possible. Their food is created fresh with pure and high quality ingredients and most of their organic vegetables are sourced from local farms year-round.
Trendy Lime will also be partnering up with MokuGift to plant a tree for Haiti on behalf of every guest. Mokugift trees are priced at $1each. Mokugift's mission is to foster environmental solidarity by making it easy and rewarding for anyone to fight climate change and by providing the tools to inspire others to do the same. After selecting the country where their tree is planted, recipients can proudly display their trees online at Facebook, MySpace, Yahoo!, and 50 other popular Web sites.
An official partner of the United Nations Environment Programme's Billion Tree Campaign, Mokugift collaborates with award-winning nonprofit agroforestry organizations such as Trees For The Future and Sustainable Harvest International to plant trees in twelve countries: Belize, Honduras, Nicaragua, Panama, Cameroon, Ethiopia, Burundi, Senegal, Zambia, India, the Philippines and Haiti. Using environmentally sustainable methods, farmers in these countries plant Mokugift trees to restock existing forests and enable more diverse, productive and economically sustainable land-use systems.
For more information on Trendy Lime, please visit http://trendylime.com
For more information on mokugift, please visit http://www.facebook.com/mokugift
About Trendy Lime: Trendy Lime is defining the standard in classy, exclusive events for trend-setters in prime venues of San Francisco. Our international social network of successful Bay Area professionals, who engage in adventurous and luxurious lifestyle, is over 2,000 members strong. In addition, we benefit from an extensive partner network of prominent bloggers and influencers.
###